If you love Zermatt and if you're planning to get married, why not get married in Zermatt in the shadow of Matterhorn? So here are some places you can get your dream wedding in Zermatt.
Riffelberg Hotel Restaurant
Riffelberg Hotel Restaurant offers you a beautiful and unforgettable wedding which can be held in the mountain chapel right next to the hotel. You can start your romantic journey with Gornergrat rack railway in Zermatt which passes through lush Swiss stone pine forests and flowery alpine meadows until you reach the peak of the Riffelberg.
Facing the majestic Matterhorn, you and your guests can enjoy a relaxing aperitif on the sun terrace. Finally, their talented kitchen staff will impress you with a wedding banquet comprising culinary delicacies of your choice and they can serve up to 180 guests.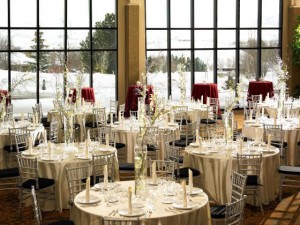 Zermatt Resort
Nestled in the Wasatch Mountains, the event rooms at Zermatt Resort over look lush flower gardens and will help make your Utah wedding location as unique and memorable as your love.
Old-World ambiance and elegant details provide a romantic atmosphere where you can say those two special words. Wether you gather in the Matterhorn ballroom with its honeycomb mahogany celiengs, or want to say "I do" in the garden gazebo, Zermatt Resort's refined service and premiere Utah wedding venues will make your special day unforgettable. Their dedicated Wedding and Social Events Manager can make the planning of your wedding menu as pleasurable as the celebration itself. They can create a truly one-of-a-kind dining experience for your guests, from seated rehearsal dinner, an elegant buffet, or even a picnic on their West Lawn.
Hotel Alex
Hotel Alex offers pure romance and a hint of luxury for your perfect wedding. If you want to get marreid in a traditional Swiss church, they have Kirche for people who wishes a church ceremony and they organize  a beautiful ceremonial service with flower decorations. Also they offer a very romantic carrige ride with white horses and ringing bells as the hightlights of your fairy tale like wedding. The food will be made by their top chef Frederic Fischer who creates an unforgettable feast for you and your guests. Last but not least they offer you an unforgettable wedding night in their warm furnished rooms with exquisite materials in every detail.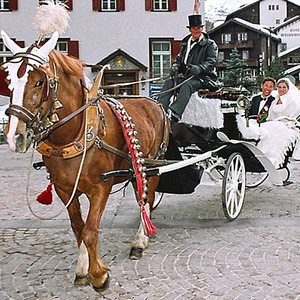 Grand hotel Zermatterhof
Grand hotel Zermatterhof offers you with a romantic journey that begins with a sleigh ride to the gardens of their hotel. There, in the ceremony of your family and friends, you will enjoy an aperitif with excellent wines and sophisticated cocktails. By looking upwards towards the summit of the Matterhorn, you can eat an exquisite dinner at sunset under the glass cupola of the "Matterhorn" room. After the beautiful ceremony and festivities, you can spend your wedding night in one of their dream bedrooms.