Wonder how it would be to be able to fly across the azure sky gleaming above your head and the vast expanse of greenery, silver white sands or snow-capped mountains travelling below you? Well, with paragliding these deep desires of flying high in the sky can be made a reality. At Zermatt, visitors can get a bird's eye view of the famous east wall, the fearsome north wall, the sharp Zmuttgrat and the craggy south wall of the Matterhorn. It is absolutely a special gift in the Alps with total mountain experience.
What is Paragliding?
Paragliding embraces an adventure sport which is opted as both recreational as well as competitive options of free-flying whereby the flyer or pilot is perched upon a harness that is suspended from a huge fabric wing comprising several cells linked to each other. They are much evolved and safer to access than what the original paraliders had been back in 1965.
When seated on the harness and let to flying in the air hung on the lightweight paraglider, the feeling is no less exciting and thrilling than the flight of birds with all maneuvering in your hands across the thermal currents and varying altitudes.
How Does Paraglider Work?
The paraglider or the gargantuan canopy wing is inflatable in nature in that air imbued in it makes it inflated and endows it with its typical aerodynamic shape. Paragliding enthusiasts can easily pack their individual paragliders in their bags and carry it along with them wherever they go. The wing is prepared from fabrics which are resistant to wear and tear such as rip-stop nylon or polyester and are comprised of rows of cells which are left open at the leading edge.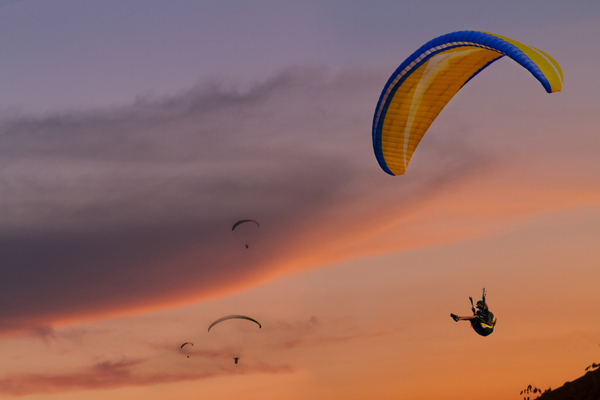 The row of lines is usually made of Kevlar or Spectra and is extremely strong in spite of appearing sleek. The harness comes with airbags that are situated beneath the seats and behind the back to provide these areas for maximum support and alleviate the impact caused due to improper landings or launches. They are fitting with a comfortable harness, and have radio, GPS and variometer built in for the flyer's convenience during flight.
Gliding Down
There can be a few situations when landing can seem difficult in paragliding. In such situations descending can come fast but can be controlled by enlightening oneself with the three basic techniques called: Big Ears, B-line stall and Spiral Dive all of which embrace control descents in various rates and requires some amount of expertise. In normal landing just like the landing of aircraft there is a specific traffic pattern to be followed to prevent any sort of collision with other pilots.
Schools at Zermatt
Zermatt has two flying schools that offer the experience with tandem flights.  Alpine Adventure Zermatt at Bahnhofplatz offers tandem flights with in-flight photo and video on CD available. Gleitschirm Flugschule "Air Born" at Bachstrasse, offers both tandem flights and schools for visitors to enjoy. Both schools offer a unique experience among some of the world's most spectacular mountain scenery.