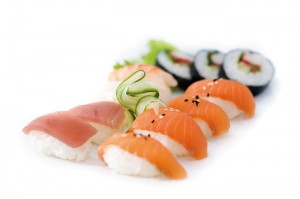 If you love special meals then Fuji of Zermatt is the place for you!
Our modern Japanese restaurant and sushi-bar Fuji of Zermatt offers something for everyone.
Our skilled sushi chefs look forward to welcoming you to our sushi-bar and  preparing fresh sashimi and sushi rolls.
On our teppanyaki tables, our experienced teppanyaki chefs put on a spectacle whilst sautéing vegetables and searing a selection of fresh fish, shell-fish and meats before your very eyes.
Whatever the occasion, whether with family or friends, your visit to Fuji of Zermatt will surely be an unforgettable experience. Take-away is also available!
Fuji of Zermatt
Schluhmattstr. 19 CH-3920 Zermatt
Tel +41 27 966 61 61
info@hotelalbanareal.com