There are some interesting events that occur in Zermatt and if you're visiting Zermatt during April, July, August or September you might want to check it out!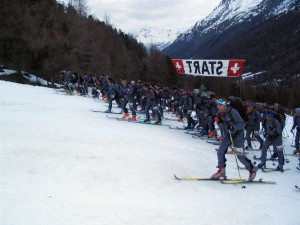 Patrouille des Glaciers is a ski mountaineering race that is organised by the Swiss Army and it takes place once every two years at the end of April. It's an exceptional race from Zermatt to Verbier or from Arolla to Verbier. This unique race is characterized by its length, high average altiitude and the profile of its litinerary. Each member must have alpine experience which ensures their capability to master unexpected situations under extreme conditions, must have the phisical, mental and technical requirements, and must have excellent skiing skills. Patrouille des Glaciers is known as the toughest team competition in the world!
Zermatt Marathon is the challenge of the ultimate mountain! It takes place in July and the course covers 42,195 meters and conquers over 1900 meters altitude! The race starts in St.Niklaus at 1,085 meters above sea level up to Zermatt (1,620 meters) and finishes at Riffelberg at 2,585 meters! The run is grueling but the view is breathtaking!

Matterhorn Eagle-Cup is a golf tournament that occurs in August. It takes place in the Gornergrat area above Zermatt between 2,500 and 2,800 kilometers. If you have an official membership and have at least a handicap 36, then you can enter the golf tournament! The number of cometetetors are limited due to saving the environment so if you want to sign up, do it fast!
For those who's not all into sports, don't worry there are other festivals!
In August 1st there will be a festival celebrating the Swiss National Holiday and they will be celebrating in traditional style with processions, paradses, music, street food and markets. They will also be doing large firework display around 10 p.m.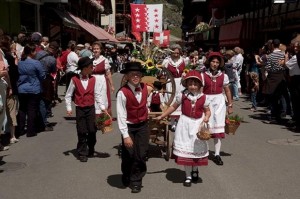 Swiss Food Festival will be happening in August 9th through 11th making the whole main street a food street with many charming stalls and tables serving a wide range of local produce! You can either take some food back to your hotel or eat on the spot! The highlight is the whole oxen roast that will be served on Saturday August 10th.
The 45th Swiss Folklore Festival will be happening on August 11th. Every year on the second weekend of August, Swiss Folklore groups from all over the country comes to Zermatt. There will be an amazing parade through town with 50 different folklore groups with more than 1200 dancers, yodelers and musicians! Food and drinks as well as entertainment for children is provided so have fun with music, dance and food!