If you go to Zermatt this is one of the places you don't want to miss. Glacier palace observatory is once in a life time experience. You will discover mystical, icy worlds in the highest glacier palace in the world! Before you go there keep in mind that it is really really cold so don't forget to wear coats, sweaters, gloves, and anything that will keep you warm.
First you will need to take the cable car that will take you directly to glacier palace from Matterhorn glacier paradise station. On the ride there you will be able to see the beautiful glacier of Matterhorn. Once you're up as high as 3,883 meters, you will see the magnificent view of Swiss, French and Italian apline that will take your breath away.
The view is breath taking but keep a very close eye on other people around you since many are carrying skiis and ice axes. With that in mind, you will definitely see the view of life time. Up on the top there are large complex with restaurants, shops and bathrooms so you can grab a coffee or a nice hot beverage before going in to the Glacier Palace because it is really cold in there.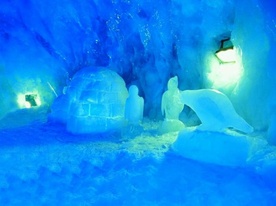 The Glacier Paradise is located at the peak of the international ski area. The entrace of the Glacier Palace is reached through 2 elevators and 15 meters underground from the glacier surface. You then will walk into the palace through the gorgeous ice tunnel and adventurers and daredevils can return by walking through glacier crevasse. Once you enter, a surreal world of ice sculputures and ice all carvings awaits you. They have mystical ice crystal forms that will take your breathe away. They also have spectacular crevasses, colorful lightings, a short glacier ride for your children to have fun, and the beautiful ice chapel. As you can see in the pictures it is a very mystical and romantic place!
Extra tips before going up there are to take a proper sun hat, sun screen and most importantly layers of clothes. If you want to save up some money to do other things. it might be wise to take a picnic and drinks with you. Also don't forget to take your Swiss Card or similar price reduction card with you. It might be best to try avoiding when it isn't too busy since when it's too busy there are many skiiers and the lifts and cable cars can get crowded. And most importantly keep an eye on how you feel since altitutde sickness is rare but is a real risk at these heights.