If you're planning to climb the Matterhorn, there are few things you need to know and learn before the ascent. I have written about the different routes you can take to summit Matterhorn in my previous article "Basic History of Matterhorn" and "Climbing the Matterhorn". What I didn't write is what you need to really know before you climb the Matterhorn.
If you are planning to climb the Matterhorn, you must first book a guide for the ascent. You should start to plan your travel, insurance, accommodation and a guide several months in advance. You can either use the local guide who will probably get you faster up and down the Matterhorn but if you already have a guide in mind in your own coutry, that would be great too. Once you have the guide, you will need to train and test your gears several months in advance. You must test your gears thoroughly. Make sure you get experienced with crampons on snow, ice and rocks. It might be a good idea to climb a few alpine climbs when you get to Zermatt as a warm up. You should also carefully plan your acclimatization and training in Zermatt. You should figure out how much you will be using the lifts in Zermatt.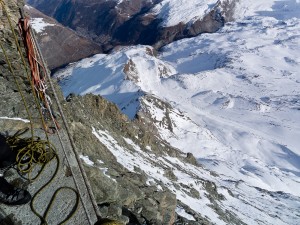 The difficulty or the grade of climbing the Matterhorn differs on the route. The technical grade for the Hornli Ridge or the Normal route from Zermatt is about 5.4 or UIAA III. There are few harder sections than this without the considerable aid from the fixed ropes put in place by the Zermatt Guide. This grade is based on perfect condition of dry, ice free rock on the steep sections. For those not familiar with these numbers, the Hornli Ridge includes very sustained scrambling and a few short pitches of the lowest grades of rock climbing. These may feel fairly straightforward on a warm day with sticky rock climbing shoes but can feel a lot harder in the cold, dark, with bigger alpine boots and a backpack on.
Even though Hornli Ridge's technical difficulties are not great, the real challenge is the length and commitment of this magnificent sustained major alpine route. You will be encountered with many difficulties such as intricate route finding, sustained scrambling, short rock pitches, using fixed ropes, loose rock, snow and ice. For descending, you will be challenged with traversing and lowering in descent on a long day on the hill.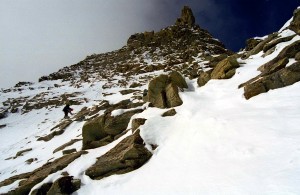 The dangers you will face while climbing the Matterhorn is fatigue, exposure to free fall and strong winds, loose rocks, high elevation, thin air, altitude sickness, falling rocks, snow conditions, time pressure, storms, overcrowded routes and inexperienced climbers. You can face all these dangers while finding the route since the actual crest is rarely followed. If you find yourself at a place with poor quality of route, that may mean you are off route. There is a narrow strip which is the normal route and where the rock is well used, slightly paler, scratched by crampons and generally more solid than the rest of the mountain. Sticking to this can be difficult since there may be snow, rain, darkness, cloud and etc.
The best weather condition for climbing are between July and August. Since most people have vaccations during this time, there are lot of climbers on Matterhorn. In the high season there is a queue up the mountain and the guides are pressing on because the weather on the mountain gets bad later in the day. You also want to make it back down in under 10 hourse or you will miss the last gondola lift down to Zermatt. If you miss the last lift, you will have to sleep out or walk for another two hours all the way down to Zermatt. So be well prepared before climbing the Matterhorn. If you are inexperienced but want to challenge climbing, then I suggest you go on many training before the climb.