Gorner Gorge or Gornerschlucht is situated between Furi and Zermatt. It is one of the most fascinating natural beauties of Zermatt. Gorner Gorge has spectacular rock formations such as glacial mills and water polished rocks which is one of nature's unique wonders. It was created by the fast running waters of the Gornervispe after the las Ice Age resulting an impressive natural gorge, complete with waterfalls and whirlpols through the glacial wters of the Gornervispe which continues to run.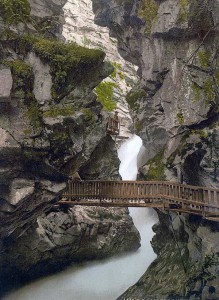 Gorner Gorge was first opened in 1886 and 1887 allowing visitors to enjoy the wonderful nature. The Gorner Gorge is particularly interesting attraction because of the creation of a wooden walkway by Joseph and Elias Lauber and Joseph and Gabriel Taugwalder in 1886 to 1887. Even though the walkway is steep at times, it allows visitors to get relatively close from the icy waters below. There are two ways of crossing the gorge. The upper part of the Gornerschlucht, which is a breathtaking adventure, can be crossed in three to four hours with the aid of mountain guide. The lower part of Gornerschlucht can be crossed without special equipment using the installation of the wooden walkway. On both routes, you can experience the Gornervispe and it is also the new shortcut between the Dossen Glacier Garden and Riffelberg. You can enjoy the beautiful nature and there are many interesting rocks like serpentinite which is about 200 million years old. The highlights are the 3 abseils, 3 zipwires, a pendulum swing and a Himalayan bridge which can be accessed with a guide. You can choose to either retrace the steps or to continue to walk down the far side of the Gorge towards Zermatt.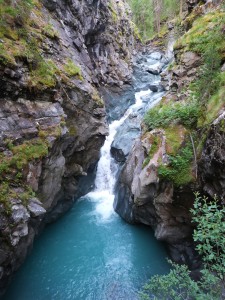 The Gorge is about 20 to 30 minutes walk from Zermatt's main railway station. Just walk straigh up the high street, past the church, and past the Matterhorn Express cable car station. Continue uphill, following the signs for the Gorge and crossing the river, for another 15 minutes. It is easily accessible so you can continue the stroll to Blatte of Moos which is an impressive natural sight that you can't miss. Also on the way, Furi has various mountain restaurants for you to relax before the hike. If you are fit, just take the upper route and if you just want to stroll in the nature take the lower route. Whichever route you take, you will enjoy the beautiful nature, alpine rock glaciers, larch trees and the gorgeous Gornervispe! Don't forget to wear comfortable walking shoes and a camera!