Eating at a ski resort can be a bit pricey. If you're on a tight budget or just want to spend more money shopping rather than eating, then here are some places where you can eat cheap.
If you're on a mountain and want something to eat, you can try going for a late lunch at Olympia Stubli. It is located at the last stop on the Reid trail down to the village on Sunnegga so you can take a late bite on your way back. They have superb penne with chicken fillets in orange prosecco sauce for an affordable price.
At a 10 minute ski down from the Blauherd station on Sunnegga, there is a great place called Restaurant Tufternalp where they offer simple food in generous portions. You can have delicious homemade cheeses with rye bread at the terrace with the stunning view of the Matterhorn.
Blatten is located just off the red run from Furi on the Klein Matterhorn sector and is a charming chalet with one of the cosiest tables in Zermatt. If you're looking for a nice romantic time, this is the place. They have delicious truffle cheese fondues and excellent mushroom soups.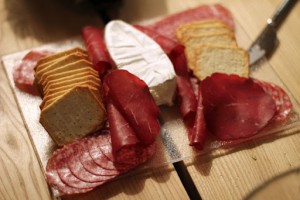 If you want a live music while you eat, you can try going to Fluhalp. It is located on the Rothorn sector of Sunnegga and they offer wonderful musics. You eat veal or pork sausage with onion sauce with a glass of champagne while enjoying the music and maybe dancing a little.
There are more affordable places to eat in the town. For example if you want to meet some locals, you could try going to North Wall Bar where workers, skiers and clibers get together to chat over cheap beer. They have delicious nachos and "create your own" pizzas for you to enjoy while drinking a nice cup of beer.
Raclette is a traditional Switzerland food with melted cheese accompanied by potatoes, dried meats, gherkins, onions and other extra yummy things. You have to taste one while you're in Zermatt. Just go to Cafe Dupont, which is one of Zermatt's oldest and most affordable eateries. It is located at the south end of the main street just past the church.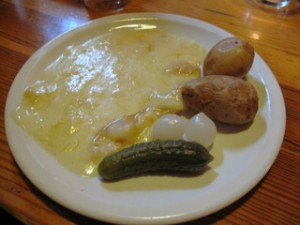 For apres, you can try Snowboat. It is a funky restaurant with a lively apres scene. They have Japanese bento boxes with musics. If you arrive before 10pm, you'll hear a nice Spanish guitar. After that a DJ will kick in for a fun night.
For a quick takeaway, you can try Creperie Stafanie. It's near the tourist office, opposite of Bayard Sport. Or since most hotels and chalets have a kitchen in the room, you can just cook your own meal. You can buy groceries at the Coop and Migros, both in the town center. And you can buy meat at Bayard Willy on Bahnhofstrasse.