Looking to hike and explore the amazing Zermatt? Well how about staying at Monte Rosa Hut. It is one of the most unique and magnificent place you could ever stay in Zermatt. Standing at 2883 meters above sea level, the Monte Rosa Hut is one of the most complex wooden construction in Switzerland and one of the most modern hut in the Alps. Covered in a beautiful shimmering silver aluminum shell with almost completely self-sufficient energy, Monte Rosa Hut overlooks the Grenz Glacier and Matterhorn.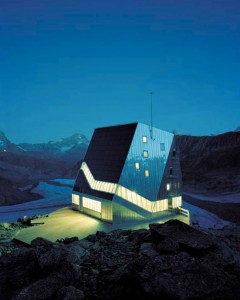 After about 6 years on the drawing board and a construction phase spanning 2 summers, the New Monte Rosa Hut opened for buisness on September 25th 2009.
Despite being dwarfed and daunted by its surroundings, the hut actually sleeps 150 people. The amazing part is that it generates its own power and is expected to be at least 90 percent energy self sufficient. The solar collectors are installed in the grounds to generate solar heat which provides warm water and heats to ventilate and control the air temperature in the rooms. In the few months of the year where the ice melts, the water is collected and stored in a cavern to provide the guests with flush toilets and four hot showers.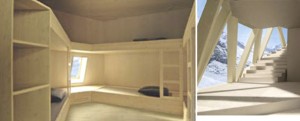 There are 160 places and 28 in winter room. Don't worry, food and drinks are available and 3 meals a day are served with hot tea in the morning. Also lunch will be packed if requested. Since the water in the toilets and showers is melted snow and ice from the glacier, you are warned not to drink the water.
The trip to Monte Rosa Hut isn't quick but is definitely worth it. To get there from Zermatt you first need to take the cog railway to Gornergrat station and exit at Rotenboden. From there, there is a blue signal indicating the path leading to Monte Rosa Hut. It is about 3 and a half hours from there and depending on the conditions of the glacier crampons may be needed. Despite the high and a bit long alpine hike, it is worth walking up to enjoy the beautiful sunset in the hut with the surroundings of the highest mountains in the Alps and to experience the hut's future orientated technology. The new Monte Rosa Hut, built 100 meters above the old one, is mostly full up and the reservation is strictly recommended. You can make the reservation on its website 24 hours before the arrival.