Skiing in Zermatt is without doubt the most fun experience. With excellent slopes in wonderful condition, with several slopes you can choose, and from beginners through experienced skiers, everyone can enjoy skiing in Zermatt. However, if you are looking for something more unique and special than your average ski trip, you should check out the moonlight ski run in Zermatt. Moonlight ski run has been popular in many places but the run in Zermatt is unique and something to be experienced.
Evening in Zermatt brings a different type of adventure. Even though most of the town closes after sunset, the mountain opens up for visitors. Moonlight ski in Zermatt is a very special and limited experience. With the beautiful light of the moon and head torch, you can glide your way down through the beautiful slopes. You can enjoy moonlight ski run at three different places.
Rothorn Paradise offers a romantic moonlight run for those who want to enjoy the romantic moonlight run down the valley below. They offer a wonderful package where you will enjoy a cozy atmosphere and a delicious fondue followed by a romantic ski run in the moonlight. The ski run will be accompanied by the experienced Zermatt slope and rescue service so you don't have to worry about getting lost in the dark. Make sure you notice how the moonlight glistens off the beautiful white snow as you make your way back to the valley. The meeting point is at the bottom station of Rothorn Paradise at 7 pm and you can make a reservation at Restaurant Rothorn.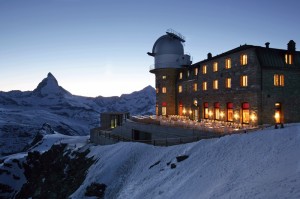 If you prefer a longer experience, you may choose to ski the moonlight ski run at the Blauherd. Before you join the piste control and rescue service for the moonlight run down Blauherd, you will enjoy a delicious 3 course meal at the Restaurant Blue Lounge Blauherd. The package includes the meal, the downhill run and the one way ticket from Zermatt to Blauherd. The meal is an excellent way to begin the evening before beginning the moonlight run and adds a very romantic mood to your evening. The reservation for this moonlight ski run can be made at Restaurant Blue Lounge Blauherd.
Your other choice for moonlight skiing is Gornergrat. Skiers can ski the slopes of Gornergrat in the bright glow of the full moon. Before taking on the moonlit slopes of Gornergrat, enjoy a delicious cheese fondue at Hotel Kulm Gornergrat. You will enjoy the great service and attention to detail at the hotel before embarking on your moonlight ski run. For more information you can contact the Hotel Kulm Gornergrat.
Next time you are visiting Zermatt, consider one of these unique ski runs to end your day. It will be an experience that you will never forget.