This stunning hike has absolutely everything. From the views of the north wall of Matterhorn to excellent views to most of Zermatt's other big mountains. There are also wildflowers, wildlife, and real wilderness feel to most of the trail. There are even some nice mountain restaurants towards the beginning and end of the walk where you can fill your stomach. This is without a doubt the finest hikes in the Alps.
Starting at the Hotel Post and Grampi's on Bahnhofstrasse, take the steep paved path leading up the hillside to the English Church. Continue up the hillside and crossing the gorge on the path that leads to Haus Edelweiss in about 45 minutes. After breaking for tea and carrot cake at Hause Edelweiss, take the trail that ascends up the slope to the south, following the signs marked for the Hohenweg Hohbalmen.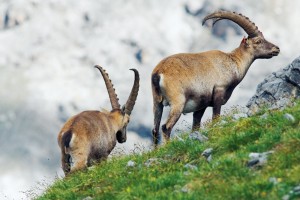 The route takes you up the steep valley walls and dramatic views back down to Zermatt. Soon you will emerge above the timberline ot a high alpine meadow known as the Hohbalmen, where you will enjoy the gorgeous panorama of Switzerland's highest peaks. Continuing on, the path takes you to a hillside directly opposite the the north face of the Matterhorn where you get a rarely viewed direct perspective of this stunning peak.
Following the course along the slope, with the Gabelhorn peaks to your right and the Matterhorn to your left, you'll have a good chance of spotting ibex. It is also one of the rare spots around Zermatt where you can find edelweiss growing in the wild. You can have a wonderful picnic here or keep walking.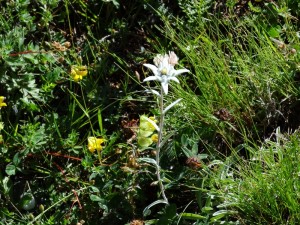 On your descent to Schwarzlager the route makes a hairpin turn and reverses course in the direction of Chalbermatten, passing a dramatic waterfall, beelines it down to Zmutt which is a great lunch stop. You can stop at Zmutt to eat or walk around the village where they have charming little chapels or visit fine old barns and wooden houses. From Zmutt it is only 45 minutes back to the heart of Zermatt taking you back to civilization.
This hike is featured on Alpenwild's Best of the Alps so you really don't want to miss this hike! The walk is absolutely beautiful including about 3 hours uphill and 2 hours downhill. There are few crowds so you can really enjoy the views. Just be sure to wear good shoes since some of the rocks can be loose along the path.