If you're in Zermatt to ski or hike you're bound to see many mountain restaurants. There are more than 50 huts and mountain restaurants in Zermatt. They have excellent food with the amazing view of the Matterhorn and the Swiss Alps. But because there are so many, it is hard to choose which ones are the best restaurant. Well here are some top restaurants you can choose from.
Findlerhof has the excellent view with the combination of unforgettable lunching. It is tucked away at the furthest accessible extent at the bottom of Findeln. They serve traditional Swiss cooking, Walliserteller and modern Italian dishes along with the best salads. Besides their mouth watering food, they have an excellent wine list. Findlerhof is all about ambiance and the charm of old Zermatt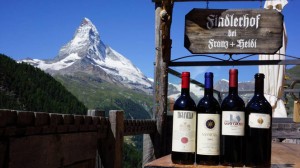 Zum See named after the famous mountian Zum See, offers Swiss cooking including homemade pasta dishes with veal, calves liver and lamb specialities typical of these lower shepherd hamlets. You can eat inside or outside on the terrace on a sunny day.
Chez Vrony, located in Findeln, delivers the closest thing to haute cuisine on the mountin in Zermatt. They serve the same Valais product but with more international influences with a fine wine list. With the delicious food and the tasteful furnishing, you are bound to have a wonderful time.
Les Marmottes have made a top 10 mountain hut in Zermatt. It combines mountain charm and natural local farm product with an international and modern twist. You can have their home made soup followed by pasta dish, oriental rice and noodles, a lamb curry or Wagyu beef fillet. With the local products, they serve dishes in thyme sauce and chamois in cowberry sauce, both absolutely delicious.
Stafelalp, even though it is relatively new, it made it into the top 10. The restaurant is furnished with timber floors and sheepskin in a stunning hut. They serve delicious and historic lamb cutlets and hot stone dishes of Bison Rib-eye with excellent Valais wines.
Fluhalp is unmissable just below Unter Rothorn with its tall black timbered structure and red shuttes. They are famous for years for wonderful Swiss cooking from homemade soups to pot au feu, bratwurst and pasta. You can enjoy the live music and party inside or outside on the deck.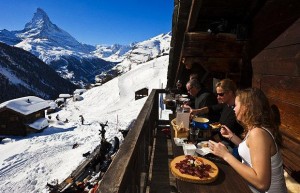 Riffelalp Al Bosco is below Gornergrat serving fine Italian mountain food including homemade pizzas. They have modern timber clad room and wood burning stove which makes the atmosphere absolutely wonderful. It is set in woods above Zermatt with its neighbouring station on the Gornergratbahn.
Adler Hitta, located in Findeln, serving traditional Swiss/Italian mountain cooking with some subtle variations. You can enjoy inside or outside on the deck with the majestic Matterhorn in view.
Simi is part of Zermatt's legend. Opened in 1967, it is situated in Furi at 1800 meters serving traditional Swiss and Walliser cooking and local Valais wines. This beautiful old hut has lovely terrace which you can enjoy food cooked on the wood grill and also on hot stone.
Gandegghutte is located above 300 meters on the Matterhorn Paradies side, above Trockener Steg. It describes itself as an alpine cottage with outstanding views, offering warmth to skiers and mountaineers. They have excellent fare of smoked sausages, omelettes, pastas and kaseschnittes with delicious Valais wines and some Italian wines.