The Hohberghorn is a mountain in the Pennine Alps in Switzerland that lies toward the northern end of the Nadelgrat, a high level ridge running roughly north-south, north of the Dom, above the resort of Saas-Fee to the east and the Mattertal to the west. At 4219 meters, this beautiful mountain peak belongs to the famous Nadelgrat pinnacle chain which is north-west of Switzerland's highest mountains.
The Hohbarghorn is the third 4000 meter summit of the Nadelgrat ridge, which consists of the Lenzspitze, Nadelhorn, Stecknadelhorn, Hohbarghorn and Dirruhorn. The ridge leads north-west from the Mischabel group, somewhat hidden between Saas-Fee and Randa. The Hohbarghorn, which is only 22 meters lower than the neighboring Stecknadelhorn, is glaciated on its north side and rocky to the south. There is a magnificent view of the Dom from the summit. Its north-east face, not as long or as steep as that on the neighboring Lenzspitze, is 320 meters and at an average angle of 50 degrees, making it an excellent training for the latter for mountaineers and hikers who wants some experience. Hohbarghorn was first climbed by R.B. Heathcote, with guides Franz Biner, Peter Perren and Peter Taugwalderon in August 1869 via the west gully above the Hohberg Glacier to the Stecknadeljoch.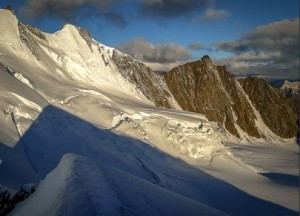 For hikers and mountaineers who wants to ascent the Hohbarghorn, this mountain is part of the Nadelgrat ridge and since it is a high altitude mountain a mountain guide is necessary. To reach to the summit, it is approximately  a 2 day trip and is an ideal option for ridge climbing mixed with high altitude terrain. There are many routes to go up the summit but many mountaineers take the route to Randa to Rotiboden then to Weisshorn hut. There is also St.Niklaus railway and Jungen cable car near by for hikers and visitors to enjoy the magnificent views high up in the mountain. Since there are many neighboring peaks around the Hohbarghorn, there are many mountaineers who choose to ascent couple of mountains or go up some of the mountains as a training exercise. In order to ascent up this mountain, hikers and mountaineers must have a proper experience in high altitude mountain and also must know how to use proper mountain gears. Proper mountain guide is necessary since the weather up in high altitude mountains can change rapidly and quickly. It may be sunny with clear blue skies once you start but in a few minutes it could start to rain or in some cases there are rock falls and avalanche.