When you go to Zermatt you have to taste the delicious cheese! If you love cheese,  well here are some places where you can eat tasty cheese fondue. Also a marvelous place where you can actually make cheese!
Interesting fact is 20 cows that belongs to 5 farmers in Zermatt produces 300 liters of milk every day! So there are many dairy products!
If you want to get to know the traditional side of Zermatt, you can visit the only Alpine dairy on the Stafel. There you can enjoy a fresh glass of milk or taste the excellent Zermatt cheese that you can be bought on site. You can make or buy cheese and dairy products there too. And during winter you can go to Horu cheese makers in the village. You can taste some excellent cheeses and have the production sites and the various processes explained.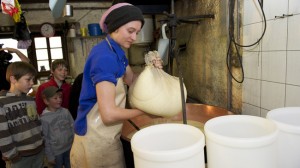 Not in the mood of making cheese and just want to eat those delicious cheese while sipping a marvelous wine?Well here are some places where you can enjoy one of the best cheese fondue in Zermatt. You can enjoy stunning cheese fondue with your family, friends or lovers!
Alpenrose offers best typical swiss recipies. A cosy mountain restaurant in Zermatt has hearty cheese fondue that you can share menu with delicious hashbrowns and tasty apple strudel.
Barghus Grunsee has the best mountain view where you can enjoy 360 degrees of panoramic view of Zermatt. They welcome you with the tranquility of the setting adding a little something to the traditional Swiss gastronomy.
DuPont styles itself as "the best fondue in Zermatt" and they are right. The well priced menu includes diverse types of fondue as well as acclaimed selection of dishes like rosti and raclette.
Helvetia has a beautiful dining room in the heart of Zermatt combined with rustic decore and classic elegance. While the food is typically Swiss, the focus on high quality produce and excellent wine makes it a gourmet destination.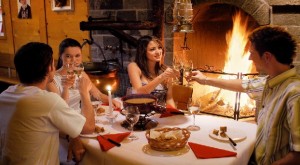 Iglu-Dorf has a unicqe architects where you can enjoy fondue in an utterly unique way. It is open for skiers all day and for the night skiing specials from Zermatt, they offer you fondue in unforgettable surroundings with glittering snow crystals.
Schwyzer Stubli is an authentic eatery in central Zermatt. They provide you with Swiss experience through and through. From cosy surroundings to the jaunty strains of local folk musicians, the fondue is just one part of celebration of all things Swiss.