With the sun shining and the snow perfecly layed, you are likey to have a fabulous train ride up to Gornergrat. You will have the view directly at the Matterhorn and in the other direction to Monte Rosa at the hight of 3100 meters.
Starting from opposite of the main Zermatt rail station, you can catch the rack and pinion railway for about a 40 minute ride up the steep mountain slopes to its other terminus at Gornergrat. There are several stops on the route where skiers join to start once again on their downhill journey with skis and snowboards. The carriage has places for skiers and snowboarders to store their equipment but there are plenty of seating as well.
Once you get there, you need to wave your ticket at the machine in order to enter and exit from the platform. There is a small waiting area in the station building where they sell hot drinks for you to warm up. It is remarkable how it looks like any other station in the accessible part of the country despite the location.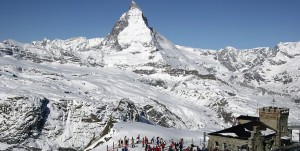 The ski run starts from just behind the station so you can watch or ski down the slope. It's a pretty steep slope so if you're a beginner it might not be a good idea to go up there but for those of you who likes the thrill, then it's excellent. If you're up there for sight-seeing, well you can see the beautiful view of the Matterhorn. You can walk up the short, snowy path and go to the little chapel or go on to the hotel.
If you walk furthur up, there is a steps leading to wider viewing platform where you could get 360 degrees view including the Monte Rosa and range of mountains. The air up there is so clear and clean that you can see for miles. At sunset, you can see the sun dropping behind the Matterhorn slowly welcoming the night. The colours on the face of the mountain and the cloud moving through the peak is a breath taking view. So don't forget your cameras!
This place is definitely worth a visit especially if the sun is shining. If it's clowdy or raining, you're likely to be disappointed. Most importantly be prepared for the cold weather and proper footwear because the paths are snowy and it is a mountain after all. Also don't forget sunglasses and sun screen since it's high up you can easily get sun burnt.