The Glacier Express is probably Switzerland's most scenic train journey. It's a year round train service between Zermatt at the foot of the Matterhorn and St.Moritz in the Engadin skiing area. It is an express train connecting railway stations of the two major mountain resorts of St.Moritz and Zermatt in the Swill Alps. It passes along and through the World Heritage Site known as the Rhaetian Railway in Albula/Bernina landscapes.
Glacier Express or also known as "the slowest fast train in the world" is a narrow gauge train which takes about 7 and a half hours to cover over 290 kilometers at an average of 24 mph with panoramic view. This red and white train winds its way through no fewer than 91 tunnels and across 291 bridges taking you to a day trip through untouched mountain landscapes.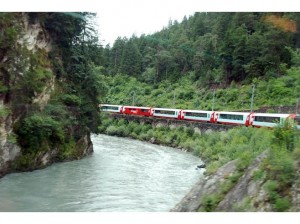 Through the windows you can see Switzerland's hidden gems such as, the untouched mountain landscapes, the lakes, snow covered alps, the Rhine gorge, Switzerland's Grand Canyon, or even pass by the smallest village with just 3 houses, a gasoline station and a chapel. The scenery is just breathtaking!
The Observation carriages open up vistas of unique landscapes such as the 400 meter deep Rhine Gorge, the 2033 meter high Oberalp Pass and of course the mighty Matterhorn in Zermatt. If you want to know more about the places, you can read the brochures or plug the headphones providing you with different languages.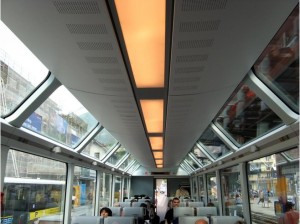 You can take your lunch either in the service car or take your order from the service personnel and it will be served at your seat. You can choose from the dish of the day or 3 course menu. If you want to order additional drinks or snacks during your journey, a service button is located on the front of your carriages.Or if you're tight on budget, you can bring your own food. Whichever you choose, you can enjoy your meal while watching the beautiful scenery.
There is only one daily Glacier Express in winter, but several daily trains in summer. If you miss the Glacier Express you can ride the regular local trains which comes hourly operating all over sections of the Glacier Express's route.
At the end of the scenic train ride all through long, beautiful and relaxing ride which you'll probably remember for the rest of your lives, you can get souvenirs!
Go to the ticket dest at St.Moritz/Zermatt for a personalized Glacier Express Diploma as a souvenir and it's free!It's truly unforgettable experience!
Mentioning all the fascinating sights would take us forever so why not step aboard the Glacier Express and see for yourself?