The Breithorn which is near Zermatt, is a heavily glaciated mountain crest with several peaks. Many budding mountaineers choose this for their first 4000 meter summit since it is one of the easiest 4000 meter peaks in the Alps. It is accessible in 2 hours from cable car station, Matterhorn glacier paradise, allowing mountaineers to access the mountain easily. Even though it is one of the easiest 4000 meter peaks, a mountain guide is necessary since the weathers up in the mountains can change rapidly.
The origin of the name Breithorn is from the word "Breit" meaning "broad", which is a fitting description for this mountain crest with multiple peaks, which extends for more than 2 kilometers. The Breithron received its name from the canon Josef Anton Berchtold due to the remarkable breadth of the mountain. The naming of the mountains around Zermatt made great progress thanks to Berchtold. He was responsible for the appearance of a number of traditional Zermatt names on the Dufour map, the oldest official map of Switzerland.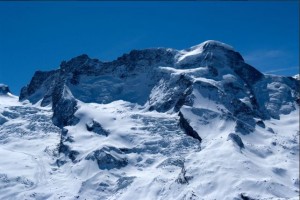 Breithorn at 4164 meters is located on the border between Switzerland and Italy, lies on the main chain of Alps, approximately halfway between Matterhorn and Monte Rosa and east of the Theodul Pass. Most of the massif is glaciated and includes several subsidiary peaks, all located east of the main summit, the Central Breithorn, the Eastern Breithorn, the Breithornzwillinge and Roccia Nera. The main summit is sometimes distinguished by the name Western Breithorn.
The western summit is the highest, but is also considered the easiest to climb. The middle and east summit and the Breithorn Twins form a chain towards the east. The most eastern summit, which marks the end of the Breithorn, is the Scwarzfluh or Roccia Nerra. The border between Balais and the Autonomous Region of the Aosta Valley runs over the Breithorn. The peak also forms part of the main ridge of the Alps, which is both the regional watershed and meteorological divide.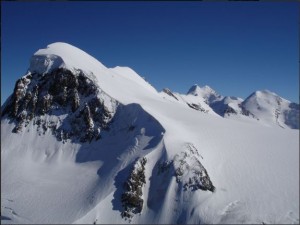 The starting point is at Zermatt and the standard route or SSW flank is from the Italian side of the mountain or the south side and continues over a glacial plateau before climbing to the summit on a 35 degree snow slope. This mountain is best for experienced mountaineers since inexperienced climbers can run into severe difficulty if caution is not taken near cornices or in bad weather. For experienced climbers wanting more challenge, the half traverse of the Breithorn crest is another option. This mountain is absolutely beautiful with an observation window towards the Breithorn at Matterhorn glacier paradise where there is also an observation platform or a point for an excellent photograph. For hikers, you can try a route from Matterhorn glacier Trail to Schwarzee to Trockner Steg or simply from Zermatt to Furi. The view up at 4000 meters is absolutely breath taking with pure glacier treks.