Summer is almost here in Zermatt. You can ski in Zermatt even during summer, or since it is nice and warm, it is an excellent season to go hiking. But if you're a jogger, or love to run, there are excellent trails to run in Zermatt. With beautiful alpine nature surrounding and sweet alpine flowers surrounding the trails, it is absolutely the best place to run.
Matterhorn Ultraks Trail 16K is a course that makes a good introduction to mountain running with length of 16 kilometers and 1000 vertical meters of ascent and descent. The route leads through the mountains west of Zermatt, over the slopes of the Rothorn and Gornergrat. The Matterhorn Ultraks Trail races have taken place every August since 2012. The routes are devised so that non-runners also enjoy an impressive spectacle and can cheer on the competitors. The 16K race follows a beautiful route with long, wide-open expanses which is the ideal circuit for beginners. This 16K course is a bit hard with total length of 16.90 kilometers taking approximately an hour and 25 minutes. The highest point on this trail is at 2278 meters with an ascent of 1315 meters and descent of 1315 meters. This wonderful trail starts at Zermatt and ends at Zermatt going through an exciting viewpoints at Sunnegga and Riffelalp. Also this trail circuits around the Zermatt region so you can view the beautiful Vispa river on the west side.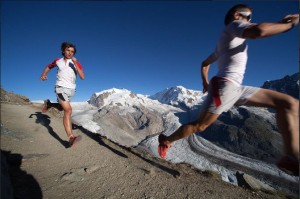 Matterhorn Ultraks Trail 2VK is a course that represents a thrilling challenge for super fit runners with 14 kilometers length and nearly 2000 vertical meters with some tricky terrain. This is perfect for hardened athletes who nonetheless prefer to take care of their joints. This course leads from Zermatt up to Gornergrat through 14.34 kilometers taking approximately 2 hours. The highest point on this trail is at 3109 meters with an ascent of 2030 meters and descent of 546 meters. Not along the cog railway line, but climbing below the Ritzengrat ridge, crossing over to the Hohtalli area and reaching the Gornergrat from behind as it were. Whoever reaches the summit is guaranteed a loud cheer! This route has very steep climbs in places with an exciting viewpoint at the Sunnegga. Also the Gornergrat Bahn cog railway leads to the finish line at the summit so you can enjoy looking at the train while you're about to finish. The views are absolutely splendid with great botanical, geological and faunistic highlights. This trail is a hard trail so if you're a fit athlete who loves to jog up steep hills up the mountain, this is a perfect trail for you.