When arriving in Zermatt you may see this really cute character named Wolli. Wolli is a young, adventurous black-nosed sheep and is a mascot of Matterhorn in Zermatt. The idea and the character are rooted in the culture of the shepherds of Zermatt. Dan Daniell, who is an entertainer, singer, chef and an owner of a restaurant, wrote a children's book called "Wolli on the Matterhorn" with charming drawings created by the illustrator Martina Friedli. Wolli can be seen everywhere where companies in the destination offer high quality products and services to families with children. Wolli helps people find their way around Zermatt and help people understand the importance of nature in Zermatt.
Wolli or sheeps are very important in Zermatt. Sheep farming is still very much a way of life in Zermatt and these particularly stubborn and hardy sheep can be seen during the summer on the hills and mountain paths. They are left to wander as they please and as te days become hotter, amble up high to munch on the grass and wild flowers accessible only to the most agile. Their presence is very useful for keeping down the vegetation that is inaccessible to people during the summer and they help to reduce the risks of avalanche in Autumn and early Winter. With the character Wolli it allows visitors to understand Zermatt a little bit more. And Wolli has many organized events for children.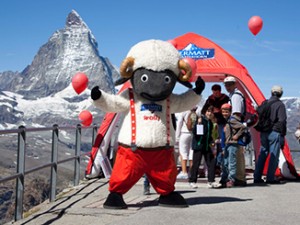 For instance, Wolli Park for Beginners in Sunnegga provides beginners of all ages with wonderful fun on the snow. It is one of the best places for children and beginners to learn how  to ski. This beginner's park is easily accessible to all and is set in a wonderful location with shelter and magnificent view of the Matterhorn. There is Leisee shuttle that runs from Sunnegga directly into Wolliland, were there are four magic carpets or conveyor belts, plus an array of play equipment to provide variety and fun for those involved in snow sports. There are also two chair lifts close by for the more experience and many excellent restaurants not far away. The restaurant Sunnegga has an excellent view of the kid's snow playground so adults can enjoy their meal while keeping an eye on the children. They also offer Wolli ski passes for you and your children. It is a perfect place for you and your children to have fun.
Zermatt also offers Wolli and the Climate Detective. It is an audio-path with seven audio points for adults and children to learn in playful manner just what climate change means for the black-nosed sheep Wolli and his friends. And naturally what we can all do to help improve things. Wolli and the Climate Detective waits for visitors at Zermat Tourism, where Wolli and his girlfriend, the Alipine Chough, also known as yellow-billed Chough, provides interesting questions and answers about Zermatt. The hike from Rotenboden to Riffelberg, which is apporximately hour and a half hike, is most entertaining for children. And on their way back to the village, they might crack the code to the treasure trove. It is a very entertaining and informative outing for the whole family to enjoy.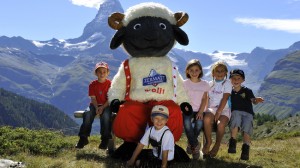 During summer there is Wolli Summer Fun. It is an unforgettable week of experience with other children to discover Zermatt from its most beautiful aspect. Children can travel from tree to tree on zip lines in Forest Fun Park. They will also be on a journey of discovery to the museum. There are much more fun activities at Wolli Summer Fun. It is a great place for children to have fun and during their fun, adults can go shop, go to spas, or go climbing the amazing Alps.