Zermatt's first attraction is usually skiing, hiking or just to take a look at the majestic Matterhorn. But you may also be tempted to shop in Zermatt. There is a single main street in Zermatt called Bahnhofstrasse and it is the great place to shop. Here, and on the small side of the streets jutting off of the Bahnhofstrasse, you'll find vast majority of all shops and stores of your interest. It is the best place to spend time and money. The main street can sometimes be a bit crowded but the crowd is only of pedestrian since Zermatt is a car-free area.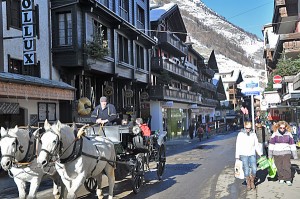 There are 316 shops where you can buy the standard Swiss souvenirs such as watchs, Swiss army knives, sweatshirts, music boxes, and even cuckoo clocks. There is also a wide range of designer fashion stores and watches and jewelry boutiques. You can buy a real Swiss made watch from famous brands and the great thing is that all luxury shops are close to each other so you can make your choice easier.
If you're looking for ski gears, hiking gears, camping gears, and etc, then you are at the right spot. There are many sports shops where you can find what you are looking for and also you can rent skis, snowboards, snowshoes, and other gears. The people who work at the stores can help anyone choose the best equipment to rent.
While you're in Switzerland, you have to go to chocolate shops. For chocoholics, it is absolutely a paradise. There are stores like Boite a Chocolat, where not only do they sell chocolate from all over Switzerland but also they make their own on the premises. There are some stores where you can see and smell the chocolates just by walking past the store. Inside the stores you will see hundreds of hand made chocolates and truffles that you can choose from. You can nibble on few while walking down the street or you can buy them as a souvenir or/and a gift to bring home to friends and family members.
There are many souvenir shops where you can buy post cards with Matterhorn printed on them, or sweatshirts. You can also go to a supermarket just to grab few snacks or to buy unique snacks that only Switzerland has as a souvenir. There are so many stores that you can spend full day there!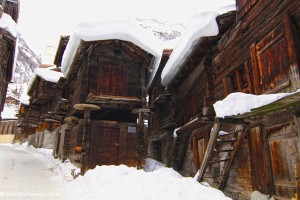 If you get a bit tired of shopping or just want to take a break from all the shopping you're doing, you can just walk around at Bahnhofstrasse. The shops are inside a very old looking wooden houses which gives a nice taste to the town. While you're at Bahnhofstrasse, you can walk for a while toward the church and from there take a road to the right where there is an old town. There you will see old farm buildings built of logs called Gadini. This oldest surviving village center has buildings that are over 300 years. Most of the houses were used as barns to store grains and food like sausages. They are standing on supporting posts which are often a pile of stone slabs which protected the foods from rodents. Their beautiful sun-beaten wooden walls and round stone slabs are absolutely gorgeous. Some of them are still used and some are used as hotels.