Without a doubt, children love snow. Since Zermatt is filledwith snow during winter, it is an ideal place for children. But getting them to go on a hike might be a challenge. So this is how one can get them to hike, just by letting them enjoy the snow. Here are some trails where you and your children can enjoy walking through the snowy world. Take the way through a snowy winter landscape, where it is also possible to see wild alpine animals. Some of the winter hiking trails allow sledges so that the trails are also interesting for the smallest family members.
AHV-Weg is a winter trail that promises peaceful relaxation in the snow blanketed forest. It offers glimpse of three parallel worlds, the village, mountain forest and the Gornergrat Bahn cog railway. This trail climbs gently to a level where the views alternate between lush woodland and the rooftops of Zermatt. But the AHV-Weg or Pension Path is by no means intended only for older walkers. It leads from Winkelmatten chapel up to the tracks of the Gornergrat Bahn which is a good chance to see the working mechanism of a rack-and-pinion railway up close. The trail then flattens out below and to the left lies the hotels and houses of Zermatt, offering an occasional glimpse of an interior. Finally the path leads into the snow blanketed forest, and an atmosphere of tranquil wintery seclusion. This easy trail starts at Winkelmatten and ends at Schonegg with the distance of 2.15 kilometers and taking approximately an hour. The highest point is at 1741 meters with an ascent of 146 meters and descent of 168 meters. This trail is great for children who wants to pull or get on the sledges with the beautiful view of snow covered larch woods. It is also a great way to take a breath away from the village.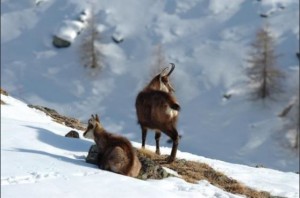 Surviving in winter trail is the winter walk from Blauherd to Fluhalp and is perfect for soaking up the sun. In winter, this must be the sunniest trail in Zermatt. It maintains a more or less steady altitude of 2500 meters, following first a track and then a path towards Fluhalp. It's well worth taking the time to read the information panels on route, which describes the survival strategies of the animals that spend the winter here. Marmots, for example, hibernate in family burrows and their body temperature sinks to 5 degrees Celsius, and their hearts beat just ten times a minute. This easy trail starts from Blauherd ending at Fluhalp with the distance of 2.19 kilometers taking approximately an hour. The highest point is at 2611 meters with an ascent of 119 meters and descent of 76 meters. This trail is an ideal trail for children who love animals. If you're lucky, you might be able to see Chamois gazing on the slopes.