Rundwanderung Tasch is perfect for anyone wishing to acclimatize to the altitude or simply to relax. It's one of the ideal trails for families with children. The circular path leads across a variety of terrain. Along the way, it passes the Tasch-Randa golf course as well as barbecue sites and play areas. It's an ideal walk for families and great fun for all ages with the additional draw of a dip in the Schalisee lake. This easy trail starts from Tasch and ends at Tasch going through 4.38 kilometers taking approximately an hour and 10 minutes. The highest point on this trail is at 1458 meters with an ascent of 95 meters and descent of 95 meters. This wonderful trail has the magnificent view of the Klein Matterhorn ad Breithorn with opportunities to play football and volleyball along the way. There is also a barbecue site and playground along the trail so while children are playing or swimming in the Schalisee lake, parents can relax by the lake or have a nice barbecue with the view of the wonderful alps surrounding them.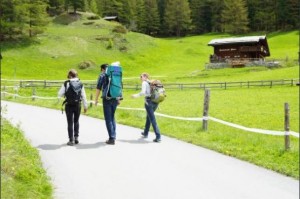 Furiweg is a quiet road that leads from Furi down to Zermatt. A stroll in the pleasant shade of the larch trees can lead to some delightful surprise. Most of the time this lane is wonderfully tranquil, hardly anyone is about. Now and again, a squirrel bounds across the roads and the views down into the valley and up to the mountains are gorgeous. This easy trail starts from Furi and ends at Zermatt with the distance of 4.92 kilometers taking approximately an hour and 10 minutes. The highest point on this trail is at 1864 meters with an ascent of 97 meters and descent of 354 meters. This trail has wonderful sunny and shady stretches alternating with beautiful woods such as larches and Swiss stone pines. This trail is also accessible with wheelchair. With beautiful botanical highlights and alpine nature surrounding, this trail is one of the walk that you can't miss when hiking with families.
With these wonderful trails, you and your family can have a wonderful time in the alpine nature. Most of the trails are easy, allowing children to walk too. Whether you want to take a break from shopping or just want to experience the beautiful and refreshing nature, these trails are something you don't want to miss when traveling to Zermatt with children or babies. Your children will have a wonderful time filling their lungs with clean alpine air. Also if the sun is shining too bright, the alpine woods gives a nice cooling shade for whole family to relax and rest.