The Gornergrat is one of those places that everyone should visit at least once in a lifetime. The mountain panorama and the glorious view of the Matterhorn are unforgettable. With its sunny observation platform accessible all year, the Gornergrat, at an altitude of 3089 meter has been one of Switzerland's top excursion destinations since 1898. The Gornergrat Bahn was the world's first fully electrified cog railway. Today it is a modern, eco-friendly railway, equipped with a regenerative braking system that generates electricity on the descent and so saves energy. If your children love trains, this is absolutely the place you have to go.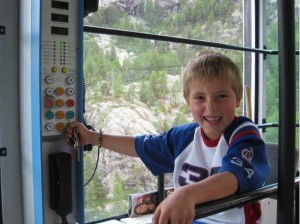 The Gondola Boss is what children will definitely love. Children love being the boss for once and in Zermatt, they can see what it is really like to be the gondola boss on a aerial tramway leading all the way to the highest mountain lift platform in Europe at 3883 meters. Children are the bosses for one trip. They close the doors at Trockner Steg and then take their spot on the cabin throne. The lift noiselessly accelerates, various lights go on, and the gondola boss or in this case a child, enjoys a wonderful trip over the glacier. Then the lift slows as if guided by a hidden hand and enters the mountain station together with the "boss" and all of the passengers. From the highest mountain lift station is Europe, one enjoys a unique view of the cabin, the mountain and the glacier. This is an incredible experience for a child who loves to become the boss and for those who love to control the train.
The Matterhorn glacier paradise is the highest cable car station in Europe at 3883 meters with its new restaurant, sets fresh standards in sustainable development. The views of the highest mountain in Italy, France and Switzerland are breathtaking. The ski are on the Theodul Glacier is open 365 days a year. The Matterhorn glacier paradise is absolute world of adventures. From here, mountaineers and hikers accompanied by mountain guides set off to scale the Breithorn, a 2.5 hour climb up the perennial snows and for many hikers this is their first ascent of a 4000 meter peak. On some days, the views from the observation platform are so clear they seem to stretch as far as the Mediterranean. Mont Blac in France, the highest mountain in the Alsp at 4810 meters, towers above its neighbors with the summit of the Gran Paradiso at 4061 meters which is Italy's highest peak, is also often visible. The air up there is thin, so visitors should take plenty of time to explore. This is an amazing experience for the whole family who wants to view the breathtaking views of the high mountains.