Alpensennerei Stafel or Stafel alpine cheese dairy lies at an altitude of about 2200 meters in the Zmutt valley between Furi and Schwarzsee. Here you can view the milk made into cheese. The location is idyllic with alpine pastures scattered with trees, cows gazing peacefully, with their bells ringing gently. The cheese makers of the Stafel dairy process the milk of all the cows that graze in the surrounding area. Visitors may also have the chance to observe chamois on the cliffs opposite, in the Arben, Schwarzlager and Hohliecht areas above the crags. You may even spot ibex. If your family loves cheese this is something you can't miss. Your children will not only learn how cheese is made but can also see alpine wildlife in the area. Here, cheeses are for sale such as Ziger soft cheese.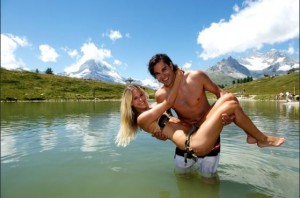 Sunnegga at 2288 meters is absolute heaven for families. In summer, the Leisee lake offers a refreshing dip and in  winter, skiers of all ages can enjoy their first sensations of sliding on snow at Wolli's park for beginners. The funicular ride from the valley station in Zermatt to Sunnegga takes just 3 minutes. The railway, fully renovated in 2013, leads up a rock tunnel through the inside of the mountain to this sunny, scenic terrace with incomparable views of the Matterhorn. This place has everything from playground, beach, skiing, snowboarding, hiking, kickbikes, barbecue sites and many more. In summer, the marmot watching station is just a few minutes walk from Sunnegga and promises an unforgettable experience for the whole family. A theme trail reveals fascinating facts about these charming mammals which live in burrows high in the Alps. Also in summer, families adore coming up to the crystal clear waters of the Leisee. This is the top spot for an outdoor swim in Zermatt, complete with children's playground and barbecue areas. Children love playing on the big raft and splashing around in the water while adults can relax and enjoy the glorious view of the Matterhorn.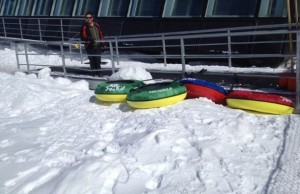 Snow Tubing is also an excellent and one of the most popular activities for families. Playing around in the snow in summer is great fun. In Zermatt, a snow tubing run at 883 meters promises high thrills. The summit station of Matterhorn glacier paradise offers the activity all summer. At Klein Matterhorn, round air filled rings like giant inner tubes awaits guest. You can simply climb in, hang on the handles and whizz down the snowy slope. Children love snows and they especially love playing in snow. Snow tubes are available free of charge at the peak and your family can have an exciting and thrilling snow tubing run during summer.