Gletschergartenweg is a trail which hikers can marvel at the polished rocks and boulders, with the ice of the glacier that still remains in the valley floor, and the larch trees that are inexorably reconquering the landscape. The trail leads from Riffelberg, which today lies on the treeline, into the rocky landscape along the former edge of the Gorner Glacier. First of all, though, hikers should pause to admire the view of the Matterhorn, before following the path down into the mysterious world carved out by the mighty forces of the glacier. At the Gletchergarten Dossen or Dossen glacier garden, visitors can see what a glacier normally conceals such as boulders polished smooth, glacial mills and strange rock formations. During July and August, hikers can view the beautiful alpine flower edelweiss. This wonderful trail starts at Riffelberg ending at Furi with total distance of 6.16 kilometers taking approximately an hour and 50 minutes. The highest point on this trail is at 2578 meters with an ascent of 148 meters and descent of 863 meters.
Gourmetweg or Gourmet Path will marvel anyone visiting Zermatt for the first time where the path leads past numerous mountain restaurants with a global reputation. All along this trail, hikers repeatedly face a quandary, whether to stop for a bite or keep walking. To maximize freedom of choice, it is best to allow a lot of time for this walk and it is an ideal walk for the whole day. The mountain restaurants on the route serve top class cuisine and delicious local specialties, and all boast inviting sun terraces ideal for soaking up the spectacular panoramic views at leisure. This trail is perfect for those who love to eat and enjoy the magnificent views of the alpine mountains. This delightful trail starts at Sunnegga and ends at Zermatt with total distance of 8.81 kilometers taking approximately 2 hours and 25 minutes. The highest point on this trail is at 2277 meters with an ascent of 336 meters and descent of 1005 meters.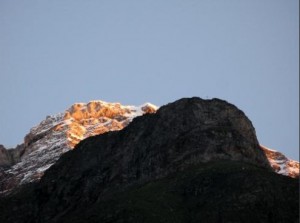 Gross Kastel leads up a lesser known mountain, the Gross Kastel with the beautiful view of the Bis Glacier and its crevasses. This hike, classified as difficult, crosses a variety of alpine landscapes. The trail initially follows the cascading Bisbach river before climbing steeper slopes into rocky terrain where hikers may need to use their hands at times. The path finally leads up slopes of scree to reach the Gross Kastel summit plateau, which rewards walkers with magnificent views of Tasch, Randa and Matter valley. Hikers may also see the impressive Weisshorn nearby and the view of Brunegghorn. This magnificent hike up to Gross Kastel starts at Randa and ends at Gross Kastel with total distance of 6.12 kilometers taking approximately 3 hours and 40 minutes. The highest point on this trail is at 2827 meters with an ascent of 1489 meters and descent of 220 meters.