Furiweg is a quiet road that leads from Furi down to Zermatt. A stroll in the pleasant shades of the larch trees can lead to some delightful surprises. This beautiful lane is wonderful tranquility with hardly anyone around. Now and again, a squirrel bounds across the road. This trail offers a beautiful view down into the valley and up to the mountains which are absolutely gorgeous. This trail is perfect with families with sunny and shady stretches alternating, surrounded by beautiful woods such as larches and Swiss stone pines. This relaxing trail starts at Furi and ends at Zermatt with total distance of 4.92 kilometers taking approximately an hour and 10 minutes. The highest point on this trail is at 1864 meters with an ascent of 97 meters and descent of 354 meters.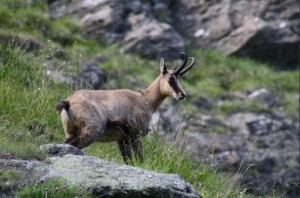 Gamsweg or Chamois path offers everyone a good chance of spotting these beautiful wild animals. Zermatt is at the heart of one of Switzerland's biggest wilderness areas, home to many chamois. Depending on season, walkers may spot mothers with their kids, perhaps also young male chamois or even a whole herd. It is worth allowing plenty of time to stop along the way and observe them. Some of the animals may be resting on the ground, which makes them all but invisible to the untrained eyes. Hikers who stop to scan the rocky outcrops and alpine pastures carefully should soon make the out. This wonderful trail starts at Rothorn and ends at Tufteren with total distance of 5.74 kilometers taking approximately an hour and 50 minutes. The highest point on this trail is at 3089 meters with an ascent of 60 meters and descent of 936 meters.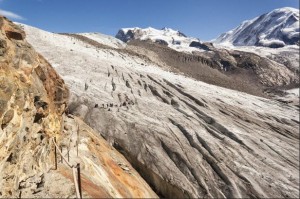 Glacier trek to the Monte Rosa hut is a very special experience, but not suitable for all. Zermatt Tourism and the Alpin Center Zermatt recommend that this tour be undertaken only in the company of a mountain guide with local knowledge. Hikers who have a pair of crampons for this glacier trek encounter a unique world where cold wind blows continuously and an icy chill hangs in the air. The sound of creaking and cracking emerges from deep down in the river of ice. In the middle of the glacier, hikers find the broken rocks and rubble of the medial moraine, along with glacier tables where boulders perched on pedestals of ice, which appear solid enough but which could collapse at any time. Small steams steadily scour channels through the glacier, rocks of varying sizes heat up in the sun and work their way down through the ice, leaving pools filled with water. The trek starts at Rotenboden and leads along the extended lateral moraine. Hikers may be lucky enough to spot ibex. These males give off such a strong scent that walkers might even smell them before seeing them. At the entrance of the Gorner Glacier, tall metal ladders, permanently attached to the rock, leads down to the river of ice. This trail, which only experienced hikers should go, starts at Rotenboden and ends at Monte Rosa Hut with total distance of 7.34 kilometers taking approximately 4 hours. The highest point on this trail is at 2886 meters with an ascent of 526 meters and descent of 464 meters.