Arigscheis is a hike through the forests above Tasch and is certainly steep but also offers a good chance of spotting wild animals. The name Arigscheis indicates that eagles have been seen here. "Ari" means eagle in the local dialect, and Arigscheis can refer to a spot where eagles land, nest or roost. This trail leads across the lower flanks of the Mettelhorn and Aeschhorn and if you're lucky you might be able to spot an eagle, chamois and in lower area a roe deer. This rather challenging trail starts from Tasch and ends at Tasch with total distance of 8.98 kilometers taking approximately 4 hours and 10 minutes. The highest point on this trail is at 2248 meters with an ascent of 998 meters and descent of 998 meters.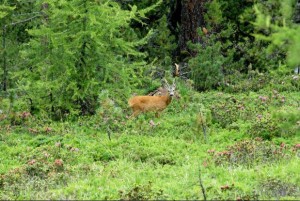 Arvenweg takes a path through the shady forest of Swiss stone pine and larch which is wonderfully relaxing. It is absolutely peaceful and depending on time of day, there is hardly anyone around. There is even a chance of spotting roe deer. The Vorderi Walder region is a nature reserve, home to numerous roe deer. The Swiss stone pine, "King of the Alps", is as much as feature of the Zermatt landscape as the Matterhorn and the glaciers. The wood, resin and needles of the Swiss stone pine contain a volatile substance called pinosylvin whose scent has a beneficial effect on humans. When a forest of Swiss stone pine is bathed in strong sunshine, the air is full of this soothing aroma. The forests of Swiss stone pine and larch offer a treat for the eyes too. Endless different shades of green all around, off setting the copper color of the forest floor due to the soft pine needles cover the beautiful path. Another delightful surprise is the sight, at a bend in the path, of a waterfall plunging into the Findelbach river. This absolutely relaxing trail starts at Riffelalp and ends at Winkelmatten with total distance of 3.07 kilometers taking approximately an hour and 10 minutes. The highest point on this trail is at 2209 meters with an ascent of 26 meters and descent of 564 meters.
Aussichtsweg has the views of true heaven with Matterhorn, Breithorn, Klein Matterhorn and Weisshorn. The scene seems to belong in a dream. This trail is something for everyone. Mountain lovers are enchanted by the views of 29 mountains above 4000 meters rising into the vast blue sky. Admirers of flowers find gentians, alpine anemones and other beautiful plants blossoming along the trail. Railway enthusiasts, meanwhile, can enjoy glorious views of the Gornergrat Bahn cog railway and the chance to take a photograph of the train from many different angles. This medium trail starts at Gornergrat and ends at Rotenboden with total distance of 1.88 kilometers taking approximately 40 minutes. The highest point on this trail is at 3081 meters with an ascent of 29 meters and descent of 296 meters.