There are many trails for all ages around Zermatt. Some trails have specific themes where visitors can enjoy the beautiful view of the magnificent Matterhorn, or enjoy the alpine wildlife. While at Zermatt, you can choose which trail you want to go depending on what you want to enjoy.
5-Seenweg or Five Lakes Walk is in a class of its own among hikes in the Zermatt mountains. The views of the mountain lakes are superb with the Matterhorn reflected in two of the lakes, and the trail is full of variety. The path leads past the lakes of the Stellisee, Grindjisee, Grunsee, Moosjisee, and Leisee. Each of these mountain lakes is very different in terms of shape, color, character and size, and has its own special attraction. The Leisee is good for swimming, which children loves, the Grunsee looks out over a rather more rugged landscape, where Swiss stone pines nevertheless manage to grow among the scree and sand. The shores of the Grindjisee are home to rare flowers and so on. Each one promises a unique experience. This beautiful trail starts at Blauherd and ends at Sunnegga with total distance of 9.26 kilometers taking approximately 2 hours and 30 minutes. The highest point on this trail is at 2578 meters with an ascent of 310 meters and descent of 599 meters.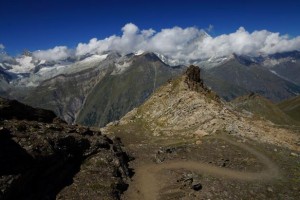 Abenteuerwed or Adventure Path is a steep trail which rewards hikers with magnificent views on both sides of the Alpine panorama and dramatic 4000 meter peaks, and way down to Zermatt and into a small, secluded side valley. This route fully lives up to its name Adventure Path, tackling 900 vertical meters over a distance of 4.1 kilometers. In other words, a steep descent with a challenging climb. Either way, it promises a thrilling hike. The view from the Ritzengrat ridge into the small secluded Tufterkumme valley may reveal a surprise or two such as a sighting of chamois. This trail offers an impressive views of the Matterhorn, Weisshorn and other dramatic peaks. This rather challenging hike starts at Rothorn and ends at Tufteren with total distance of 4.13 kilometers taking approximately an hour and 40 minutes. The highest point on this trail is at 3089 meters with an ascent of 30 meters and descent of 907 meters.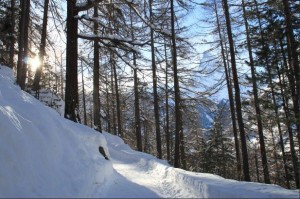 AHV- Weg or unterer Hohenweg is a winter trail that promises peaceful relaxation in the snow blanketed forest. It offers glimpses of three parallel world, the village, mountain forest and the Gornergrat Bahn cog railway. The trail climbs gently to a level where the views alternate between lush woodland and the rooftops of Zermatt. But the AHV-Weg or Pension Path is by no means intended only for older walkers. It leads from the Winkelmatten chapel up to the tracks of the Gornergrat Bahn which is a good chance to see the working mechanism of a rack-and-pinion railway close up. The rail then flattens out, below to the left, lie the hotels and houses of Zermatt offering an occasional glimpse of an interior. Finally the path leads into the snow blanketed forest, and an atmosphere of tranquil wintery seclusion. This relaxing trail starts at Winkelmatten and ends at Schonegg with total distance of 2.15 kilometers taking approximately an hour. The highest point on this trail is at 1741 meters with an ascent of 146 meters and descent of 168 meters.