There are endless places to visit in Zermatt. Here are a few must-visit.
Sunnegga Paradise
Travel on the Sunnegga underground funicular to reach the station of this beginner skier's paradise. All of the beginners courses are located here, as are the family skiing courses. The Eisfluh includes a magic carpet and a novice ski run down to Findeln. It is the just the thing place to begin learning to ski, or just to warm up before taking on the more difficult runs. As if that is not sufficient, it also boasts stunning views of the snow-covered Alps.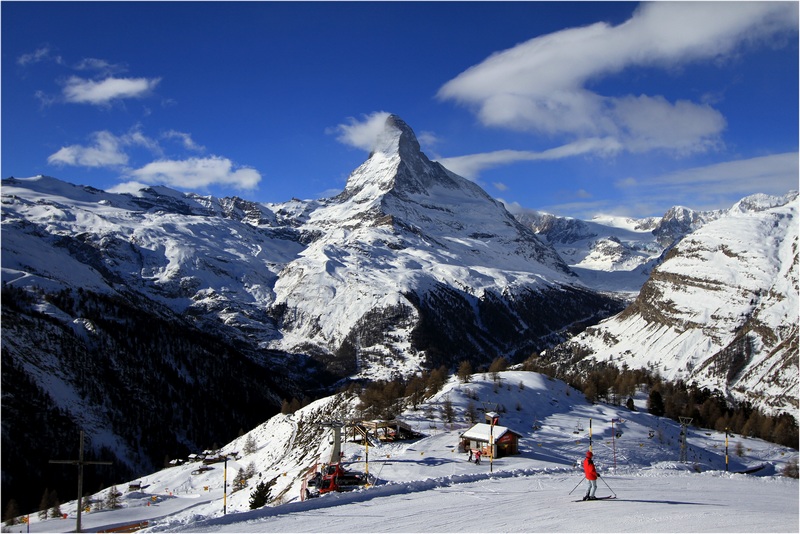 Iglu-Dorf Zermatt
A right specialty of this region, Iglu-Dorf Zermatt is on the whole an iconic igloo hotel made completely out of snow and ice. It displays Inuit artwork in all of the rooms and features warm lamb skins and expedition sleeping bags to stay warm while enclosed by the cold. Zermatt Igloo Village is famous for its homemade mulled wine and cheese fondue. This place is great for families and young travelers alike; it's quiet and non-smoking, but also features dancing, a disco, and an icy bar.
Matterhorn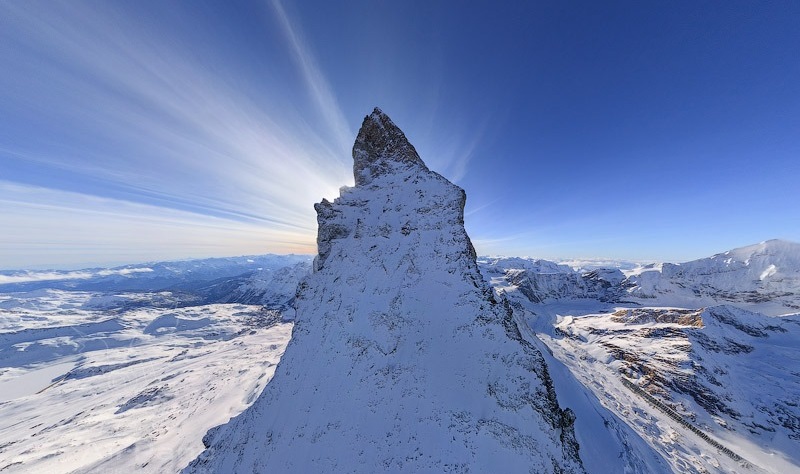 If the thought of year-round snow and glacier skiing on one of Europe's most characteristic mountains doesn't get your blood pumping, nothing will. In a Klein Matterhorn cable car, travel up a sheer cliff of rock and ice to a lookout point at 3820m, but take care with the altitude here; it's easy to get faint. Hundreds of mountaineers have died on this peak. It's pyramidal and lethal, with four faces, one in each basic direction. If you go in summer, be aware that the ski lifts close early (around 2 P.M.). due to dangerous snow circumstances. From Klein Matterhorn you can see a lot of Switzerland and Northern Italy, making it one of the most stunning panoramas in Europe on a clear day.
Forest Fun Park~Zermatt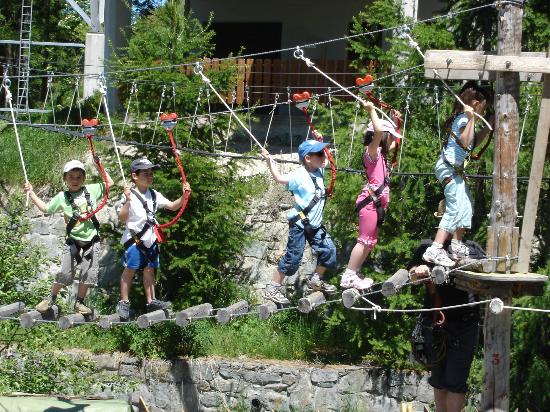 For sustained enthusiasm, stop at this tree to tree adventure park. This one is a must for tree lovers and huggers alike. You can move smoothly from one platform to another along ziplines from side to side the forest. Every course has a particular level of difficulty from easy to advanced. Prices vary from $18 for kids to $35 for adults and include a multiplicity of courses. The park is open from 9:30 A.M. to 6:30 P.M so do keep the time in mind.