With outstanding quality of slopes, mountains and number of visitors means there are wide range of ski schools in Zermatt. Whether you're taking your first timer on skis or just want more experiences and looking to push your limits, Zermatt has the ski school for you. Below are some of the ski schools in Zermatt we picked out for you to ensure you have all the information at your fingertips to make a well informed choice for your skiing holiday in Zermatt.

AER Zone
AER Zone is best for private lessons.
One-on-one lessons are the best way to make quick progress in the areas you want. From beginner to expert, AER Zone is the private lesson expert in Zermatt. Whatever your starting level and aspirations, your private instructor will know how to get the most out of your personalised program. Get in touch now, and take to the slopes with more confidence than you would ever have thought possible!
Matterhorn Diamonds
Matterhorn Diamonds are best for small groups.
Get the personal attention of private lessons combined with the added fun of a small group with Matterhorn Diamonds ski school, the experts in personalised small group lessons. Whether your interests lie off-piste or on-piste, their expert instructors will know where and how to best coach you to ensure a rapid improvement in your skiing.

Ski Schule Zermatt
Ski Schule Zermatt offers lessons for snowboarders.
For those wanting to take to the slopes in a slightly different way, snowboarding is the perfect, adrenaline packed alternative to skiing. Whether you just want to learn how to stay upright and slowly glide across the slopes or you are an experienced boarder looking for big air, Ski Schule Zermatt has a range of classes for you. Take to the slopes and after your lesson of 2, 3 or 5 hours you're sure to have made great progress and have discovered much more about the art of snowboarding.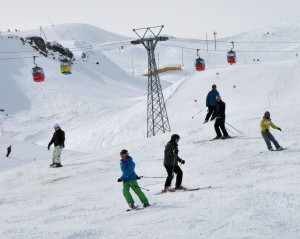 Stoked Ski School
Stoked Ski School are best for beginners.
Offering a dedicated beginners program, either on a one-to-one basis or as part of a group, makes Stoked Ski School the best place to go if you're starting from scratch and looking to build up your confidence quickly. With friendly, expert instructors, make Stoked Ski School your first port of call if it's your first time on the slopes.
Summit Ski School
Summit Ski School offers classes for children.
Catering for all ages from 6 -16 years old, and with a range of tailor-made packaging depending on previous ability, Summit Ski School's specific Kids program is Zermatt's best kids ski tuition package. All courses last from 9am – 3pm, so be ready for your kids to have stories at the end of each day and memories that will last a lot longer than that!