Walking along the main street in Zermatt, you might come across that sweet smell of chocolate and pasteries making your mouth water. The sweet smell of cocoa and milky cream mixed together creating a piece of heaven for you mouth is something you can't miss! Here are some places in Zermatt where you can buy chocolate or at some places you can even have delicious ice cream or pasteries before you buy chocolates to go!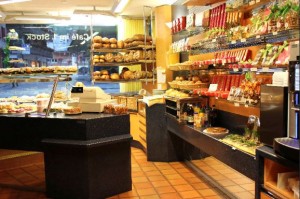 Backerei-Cafe Hornli offers delicious baking and confectionary traditions. They prepare fresh complemetery from scratch every day! They have wide range of bread and patisserie range that will impress you. You can eat their delicious tarts, crepes, apple strudel, chocolate with their speciality teas in their cafe or you can buy sandwiches and chocolates to go.
Bistro Fuchs prepare fresh dishes such as salads, various quiches, fine cakes, tarts, and fresh coffee from roasters in the Upper Valois. During summer you can taste their superb homemade ice cream in variety of flavours. From bread which are freshly baked everyday to their finest chocolate specialities, they make all of them 100% by hand. They only use natural and high quality ingredients such as Swiss butter, quality flour, finest chocolate and fresh fruits ensured with genuine taste experience and an exquisite excursion for the eye. You can eat all their delicious dishes, chocolate and pasteries in their tearoom or you can buy them to go.  They are also famous for their Matterhorn shaped chocolates. The Matterhornli or Matterhorn shaped chocolates are made from the finest dark Maracaibo chococlate with distinctive snow capped peaks which will make you want more after eating one.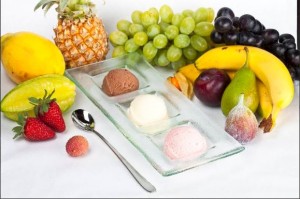 Cafe Biner at Bahnhofstrasse has delicious breakfast buffet every morning for guests to enjoy. You can enjoy their fresh butter croissants and crispy special breads fresh from the oven. For lunch, they serve plate of salad with slices of warm quiche or crepes with sweet or savoury fillings. You can also enjoy their house pizza as well as toast specialities or cheese cuts. In the afternoon you can taste their delicious slice of homemade cakes with a fine coffee or tea. They also offer homemade ice cream and sundaes.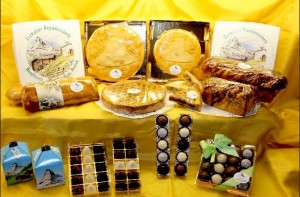 Chocolaterie Laderach on Bahnhofstrasse is a small chocolate shop near the train station in Zermatt and has the bst range of chocolate and truffles. Everythign is and made and the variety and the quality of the chocolate they offer is outstanding. You can buy some as a treat for yourself or you can buy them as a gift to your loved ones, either way, this place has wide variety of Swiss chocolate making you want to taste each and every one!
Walking along the Main street or near Zermatt, you will find many chocolate shops or pastrie shops for you to enjoy. Don't worry about gaining weight because you'll be burning those calories on the slopes in no time! Just enjoy those delicious sweets and relax while viewing the amazing view of the alpine nature surrounding you.