Tasch playground is also a nice playground located in the heart of the village of Tasch by the Catholic church. Many of the local children enjoy this playground so if you want your children to connect with local children, this is the place. They have slides, swings, and climbing frames for children to enjoy. They also have tables and benches and also a party shaded area for parents to rest while keeping an eye on their children.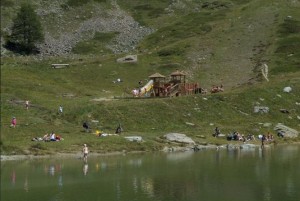 Zen Stecken playground, located at the southern end of the village is also a great place for children to burn off extra energy and play to their hearts content. With the soothing sound of the rustling trees and cascading river, this is an idyllic spot to linger. They have slides, climbing frames, swings and at least 8 play features with a quiet zone for peaceful play and a nice sand pit. There is also tables and benches with partly shaded area for parents to rest and relax all with a magnificent view of the Matterhorn.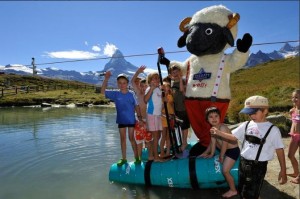 Wolli's adventure park at Sunnegga is a fun adventure playground with beach and barbecue areas for families by the sparkling Leisee lake. While children explore the playground, adults can relax by the idyllic mountain lake with its gorgeous view of the Matterhorn. Young explorers can cross the lake on a raft with secured cable. This scenic spot offers pure adventure for children and blissful relaxation for adults. The playground has slides, climbing frames, swings, and more than 8 different play features with small clean stream to play in. There is a bathroom near by and a kiosk nearby for a nice refreshment. The barbecue area has wood for burning, tables, benches and the best part is that you can keep an eye on your children while enjoying the barbecue. And all with the glorious views of the Matterhorn and the Weisshorn and other highest mountain in the Alps.
Zermatt is really a perfect place for all ages. Children have so many energies that maybe even after skiing, they still might want to have fun running around but tired adults may just want to relax. Well that is where the playground comes in. Children can play around in the playground while adults can relax from all the shopping or enjoy a nice barbecue out in the alpine nature all while keeping an eye on their children. Parents can also swim in the lake with their children or enjoy the magnificent views of the alpine mountains and also alpine nature surrounding them.