Do you want to learn how to ski/snowboard or just want to improve your skills so you can slide down those wonderful Alps in Zermatt? How about going to Summit Ski and Snowboard School in Zermatt. Summit Ski and Snowboard School is Zermatt's only British school that teaches both private and group lessons for ski, snowboard and telemark. All their instructors speak English so you don't have to worry about language barrier while being taught in Zermatt. Also all their instructors are qualified through the BASI or British Association of Snowsports Instructors.
There are lots of other ski/snowboard schools in Zermatt since it's a ski resort but Summit Ski and Snowboard School is one of the best ski schools in Zermatt. Most schools charge fee if there are more than two people with the instructor but at Summit Ski and Snowboard School, the price is based on the length of the lesson not people. So you and your friends or families can be taught all at once not worrying about how much it may cost due to amount of people. They offer maximum of 6 people in a group so everyone gets plenty of individual attention and feedback allowing you to improve your skills.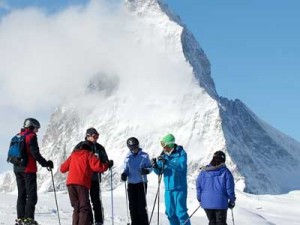 You can be taught one-on-one basis with a friend or alone so you can focus on what you want from your lesson. The great thing is you can choose what kind of instructor you want such as male, female, energetic, patient, understanding, young, technical, etc, depending on what you want to learn. Also the hours are very flexible and your meeting points and finishing points are also felxible so you don't have to slide down or go up the hill to the school each time.
Group Lessons are also available and it is very flexible. You can choose how many and which days you want to join in a group lesson so you can join every lesson or just take few days off and join again later. You can balance your need to improve by spending holiday time with your friends or families or just exploring the mountains. They offer 6 levels, from beginner to expert, so there is something for everyone.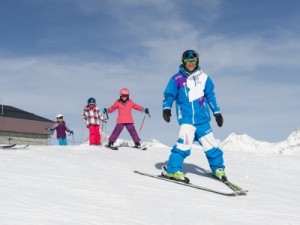 They also offer lessons for children so if you have children but they don't know how to ski or snowboard, you don't have to worry. Just like other lessons the maximum number of people is 6 people so your children can increase their skiing ability using lots of entertaining games and group activities.
So if you and your friends or families have different ablilities for example you just want to learn how to ski but your friends/families want to learn how to mogul, you don't have to worry. You can meet at anywhere you want so you can start your lessons at the same place to grab some food and meet up at some other place once you finish your lessons. Like I said the group is never more than 6 therefor it is more comfortable to ask for private tips. By the end of the lesson you will be gliding down the slopes with confidence.