Breithorn is a mountain located on the border between Switzerland and Italy that is known as the easiest 4000 meter peak to summit in the Zermatt area. The name Breithorn means "large mountain" in German and it is 4164 meters high. Yes, it is a very high mountain and you may be wondering why it can be the easiest when it's 4000 meters high. Well it is considered as the easiest climb due to Klein Matterhorn cable which takes the climbers to over 3820 meters.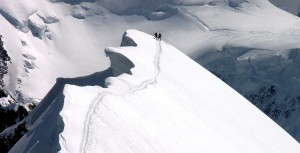 There are actually five summits in Breithorn. The highest summit is the western summit which is 4165 meters, the middle summit is 4159 meters, the eastern Breithorn-twin is 4106 meters, the western Breithorn-twin is 4139 meters and the Roccia Nera or Schwarzfluh is 4075 meters.
The standard route or the SSW Flank is probably the most climbed route. It is also the route to the highest summit or the western summit and an easy climb on 35 degree snow or ice that starts from the Italian side of the mountain and continues over a glacial plateu. It is accessible by cable car making it an enjoyable day climb for training and acclimatization. The view is absolutely incredible. Even though it is the easiest 4000 meters, you need to be experienced since in poor weather or avalanche hazard exists, the climb takes on another character. The primary challenge is usually high altitude climbing, fitness, pace and basic crampon techniques. The ascend and descent in snow and ice takes approximately 3 to 4 hours for experienced hikers.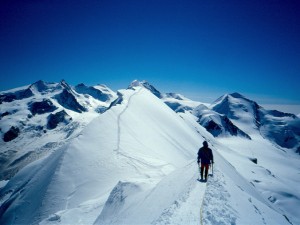 The Breithorn central and east side is a bit more challenging since the Half Traverse of the Breithorn Crest is almost 3 kilometers in length. The climbers usually gain the crest at about the halfway point at 4022 meters. From there, there are 3 main rocky steps that you have to ascend. It is very exposed but not too extreme. The traverse ends with an easy corniced ridge to the highest summit at the west end.
If you are an experienced climber, this is a great place to start your climb. You will see the magnificent Matterhorn, Castor, Pollux and Monte Rosa during the climb. You will need some gears and a guide but the summit is very rewarding despite the name easiest 4000 meters. So why not pack a lunch and have a memorable and amazing lunch at the summit of Breithorn.