Zermatt is not only an adventurous area but also famous for the wildlifes. The wildlife area of Zermatt, Tasch and Randa is the largest in Switzerland. You can observe many animals such as ibex, chamois, stag, roe deer, marmot, and also other wild animals and flowers. The most wonderful thing is that you can observe them in both summer and winter! With patience, binoculars and warm clothes, you will have an unforgettable experience.
The largest attractions are Chamois and Ibex, which are varieties of mountain goats that have adapted to live in steep and rocky terrain.
Chamois are identifiable by their short horns hooked backwards near their tip and by a white face and black stripes. Depending on the conditions of weather, you may be able to see Chamois feeding on the autumn grass from the cable cars on the slopes of the Schafberg. You can spot Chamois during winter from the cable car of the Matterhorn Express after Furi to Aroleid, in Rothorn from the cable car between Blauherd and Rothorn peak and on the piste below the traverse before Blauherd. During summer you can spot them throught the area of Schweifine.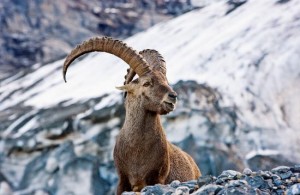 Ibex is also easy to find in the mountains of Zermatt. They sometimes stand majestically outside the front door. During winter you can spot them on Taschalp and during summer, on Gornergrat Kulm at the salt stone and sometimes from the restaurant terrace. Also you can spot them around the hiking trail Rotenboden, Gorner glacier, and Riffelhorn.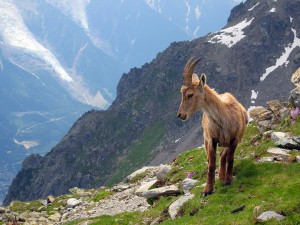 Marmots, the ground squirrels can be spotted usually early in the morning on less travelled trails. Sadley Marmots are hibernating during winter but during summer you can see them on the Murmeltierweg or marmot trail at Sunnegga/Blauherd, on the hiking trail of Tasch Zermatt and between Furi and Aroleid.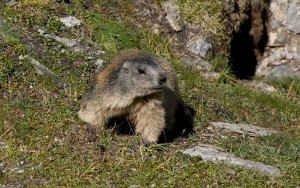 If you're lucky you might be able to take a glimpse of a golden eagle around Trift Mettlenhorn. Also if you carefully observe the tracks, you might be able to see white hares or foxes. There are other animals like the red deer, the roe deer, badgers, birds of all kind and local cats!
What you have to know is that feeding the animals are forbidden and human contact must be avoided. Also many places in Zermatt are designated as wildlife protection area so if you're planning to do snow sports, please be on the lookout for the signs! The animals such as chamois and deer have low body metabolism during winter and when they are frightened they will flee for life and due to the run, some die of exhaustion. All guests who plan seek pleasure in the open air are asked to follow the insturctions, keep on the look for numerous signs and not to leave the pistes and the hiking trails.