Matterhorn Golf Club is the 9 hole course and is located in the upper Matter valley between Tasch and Randa framed by Switzerland's highest mountains. If you love to golf, this is the experience you can't miss. The lush alpine course welcomes locals and visitors alike for golf in a magnificent setting. The 9-hole course offers all comforts including a clubhouse and restaurant as well as breathtaking views of the Breithorn and the Klein Matterhorn above Zermatt. With these magnificent alpine mountain surroundings, playing golf is one of the sports you can't miss during summer. There are many new original ideas such as early bird, "Bring a Friend", and night-time golf. Matterhorn Golf Club also has Matterhorn Eagle Cup. This is the highlight of the year and is a Scottish-style golf tournament held over a weekend in high summer. The event takes place on alpine meadows on the Gornergrat, at altitudes between 2500 and 2800 meters. Overlooking the whole course is the majestic form of the Matterhorn. This magnificent golf club has 9 holes, a clubhouse, restaurant, parking and it is only 5 kilometers from Zermatt. If you have families and if your children wants to play golf, there is a miniature golf course at Zermatt.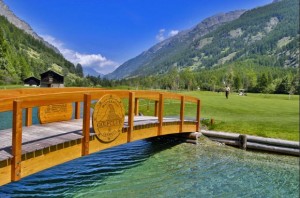 Beach volleyball is another excellent sport you can do in Zermatt. It is a unique experience and a particular pleasure in the light and dry alpine air with the magnificent view of the Matterhorn. Zermatt in summer is always a special experience. As well as summer skiing, hiking and climbing, the resort offers a wide range of other unexpected attractions which includes the chance to play beach volleyball. But beware, the sand court at the Obere Matten sports compels is in great demand. With the warm summer day, playing beach volleyball with the views of the alpine mountains is a special experience.
To play this sports, you have to make a reservation for the beach volleyball sand court at the Sportarena complex. If you get hungry, there is a restaurant terrace with sunloungers and view of the wonderful Matterhorn. The golf club also has restaurants alongside for refreshments so if you get thirsty while playing an exciting game, you can get something to drink or eat at the restaurant. If you love beach volleyball and love to have an exciting game with your friends or family, this is one of the sports for you. Zermatt really isn't all about skiing, hiking and mountains.