Zermatt is indeed famous for summer skiing but skiing isn't the only sports you can do during summer in Zermatt. There are tons of activities and sports you can enjoy especially for non skiers.
The Gorner gorge is a place of expceptional natural beauty. The wooden walkways leading between the towering cliffs provide a dramatic insight into the power of nature. The Gorner gorge offers a thrilling adventure for the whole family. Since the last ice age, the waters of the Gornervispe have carved an even deeper chasm. Access for tourists was created back in 1886 and 1887. The rock, greenish serpentinite, is about 220 million years old. This natural spectacle is a 15 minute walk from the end of the village of Zermatt. Summer is the best season to enjoy Gorner gorge. You can enjoy the trip through the upper streches of the gorge or through the gorge on foot. During mid-September between 3pm and 4pm, they offer a special light conditions where the water takes on a brilliant turquoise color. You can enjoy the cool water breeze with the magnificent turquoise color to cool your body from the hot summer sun. Children who love adventure will have an excellent time here walking on the exciting wooden walkways and enjoying the views of the mystical waters.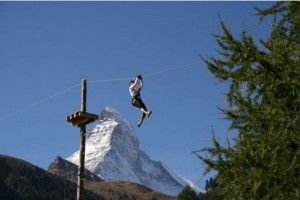 The Forest Fun Park is something you can't miss during summer. It promises a thrilling adventure for the whole family with various circuits that leads through the treetops, through bridges, ropes and zip wires. They have secured with safety cables, allowing thril seekers to walk, swing and climb from tree to tree. They have different levels of difficulty guaranteeing a rush of adrenaline for everyone. If you love some thrill, this is the place you can't miss during summer. You can enjoy the views of the magnificent alpine mountains while swinging from trees or flying across the mountains. They have the longest 350 meter circuit and offers variety of different levels for every age. Families with children can enjoy here allowing children to have the time of their life and people who just love adventure will have an excellent time with 95 bridges and 31 zip lines. The activitiy takes place in the treetops close to the valley station of Matterhorn glacier paradise, with views of the magnificent Matterhorn. Adults who love challenge can try the hard lines and challenge their strength. With warm summer breeze and summer light, this is one of the place you'll enjoy if you want to take a break from summer skiing.