For Ski lovers, don't worry you can enjoy skiing in Zermatt even during summer! Zermatt is one of the places where you can ski all year round and has the largest and highest summer skiing area in Europe. There is 21 kilometers of piste on Zermatt's Theodul glacier with 6 ski lifts allowing you to  enjoy skiing and snowboarding with Matterhorn always in sight.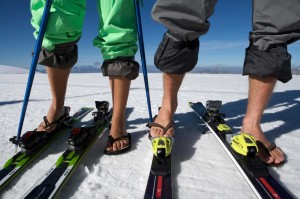 Summer skiing in Zermatt is a bit different from winter and as some brochures say, summer ski area amounts to only 10% of the total winter area but it has its own unique charm and is definitely fun!
There are glacier skiing area for obstacle free snow suitable for beginners and intermediates, There's also one or two steeper places, black and difficult area such as moguls. For snowboarders there's the Gravity Park on the Theodul Glacier. It has 200 meters of Super pipe, Half pipe, Kickers and Rails as the entire winter skate park!
The lift from the village starts as early as 7 am. Midsummer snow conditions are usually icy first thing in the morning but by mid-morning the condition is wonderful with perfect spring snow once the surface softens. Later in the day the snow may become wet and heavy therefore ski closes before 2pm in midsummer. Just get up early to enjoy!

Views are breathe taking! You can see over Switzerland and Northern Italy and even in the distant Mt.Blac and France! To see one of the finest panoramas in the world, take the little "Gipfel lift" to the summit of the Klein Matterhorn. With the amazing views of the mountains, you can enjoy summer skiing like nowhere! But please be prepared! The strength of the sun is very fierce since the altitude is close to 4000 meters. Don't forget sunglasses to prevent temporary snow blindness and importantly don't forget sunscreen!
If you're lucky you might bump into international ski and snowboard teams since it has huge summer snow area! Many professional skiers and snowboarders come to Zermatt since it is one of the best summer skiing area in the northern hemisphere. For fans, it will definitely be a life time experience and you may even be able to share a conversation or two with one of them on the T-bar ride back to the top!
To get there you need to drive or take the public transportation from Brig to Tasch and then take the train to Zermatt (car-free resort) and from there just take the mountain train to the Klein Matterhorn.