At the foot of Matterhorn, there is an exciting place called Forest Fun Park where both children and adults can have fun. Don't get me wrong, it is really fun to climb the Matterhorn, do mountaineering, going on a romantic stroll down the Main Street but for those who have children, it may be hard to do all those things. Well here is something other than skiing, hiking and biking for children, parents and couples to have fun!
The Forest Fun Park has fun and adventurous activities divided in difficulties allowing everyone to enjoy to swing and climb from tree to tree. If climbing the Matterhorn, hiking and mountaineering is a bit of a challenge but you want those adrenaline pumping, well this is the great place to test your strength and courage. Most children will be excited and for adults this is a great place to bond with the inner child in you!
At Forest Fun Park, there are 110 platforms, 25 zip lines and 83 various ateliers!
For small children there are Kids Trail which allows children from 4 to 7 years old to have an exciting adventure in total security. There's 31 bridges and 7 zip lines with staffs that can evacuate your children at any moment. It is safe but an adult must be supervised from the ground for safety.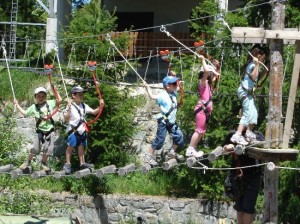 The Green Trail Discovery is for children 8 years old or higher and has the discovery trail for beginners and families. There's 25 bridges and 12 zip lines divided into difficulties allowing everyone to enjoy with the beautiful view of Matterhorn as backyard. Jus like the Kids Trail and adult must be accompanied on all trails.
The Red Trail Adventure is a little bit more difficult but definintely more interesting. If you have tried the Green Trail and want more excitement this is the place. There are 10 bridges at Red Trail.
The Blue Trail Zip is mostly zip lines. There are 4 bridges and 7 zip lines. Some of you may want to jump right in to doing the Blue Trail but it may be better to try the Green Trail first to test the difficulty since some may be a bit of a challenge.
The Black Trail Xtreme, well the name says it all. It is for people who really want challenge and definitely more sporty. There are 10 bridges and 2 zip lines. So if you want thrill and your adrenalines to pump, this is the trail.
The Brown Trail Super Zip has 5 zip lines and one of them is almost 200 meters long and 30 meters above ground.
(Children must be ages 8 years or higher for trails other than Kids Trail and for children 14 to 17, a written authorization from parents are needed.)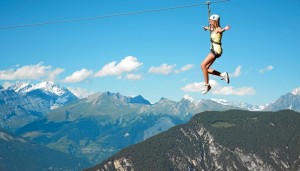 So if your children get bored with shopping and wining with parents, or you just want some adventure, this is the best place to go! Either you have small children or teenager, this is the place for families! You can enjoy the beautiful scenery of the Matterhorn and also you can zip over a river allowing you and your children to have one of the most exciting time! The best part is that it is open even if the weather isn't too great! You and your children don't have to be cooped up in the hotel room! Forest Fun Park is open even during summer so if you can't ski but want some excitement, you might want to go experience the zip lines at Forest Fun Park.