Waldweg Zermatt is the path that traces a leisurely zig-zag through the mixed larch forest. The trees provide shades but also offers frequent views of the beautiful horizon. Around Ried, the vista opens up dramatically to reveal the resplendent Matterhorn. When the sun shines on the forest, the resin of the larch and Swiss stone pines gives off a lovely scent. Take a deep breath and enjoy its soothing effect. All along this well made gravel trail, there is rustling in the foliage.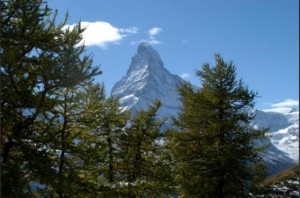 This beautiful medium hike in the larch forest starts at Tufteren and ends at Zermatt with total distance of 6.24 kilometers taking approximately an hour and 50 minutes. The highest point on this trail is at 2212 meters with an ascent of 128 meters and descent of 732 meters. This trail has the magnificent view of the Matterhorn and the splendid view of the Zermatt village. It is perfect trail for people with pushchairs or baby carriage too. Your children can play a small game such as who will be the first to spot a squirrel gnawing at a pine cone or who can identify the chattering call of the nutcracker? With the smell of the fresh alpine air and sweet scent of the Swiss stone pines, this is absolutely one of the most relaxing and refreshing trails around Zermatt.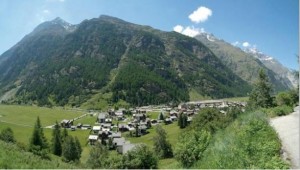 Panoramaweg Tasch is panorama that reflects topography with the deep valley floors and extremely high mountains all around. The views of the Briethorn and Klein Matterhorn are enchanting with a good opportunity to observe the mountain forest up close. The path leads past the old houses of the village, then continues along a relatively flat stretch before climbing through the mountain woods. There is no rush since the forest invites visitors to get to know its inhabitants. This easy trail with the beautiful view of the alpine mountain starts at Tasch ending at Tasch with total distance of 4.36 kilometers taking approximately an hour and 25 minutes. The highest point on this trail is at 1584 meters with an ascent of 301 meters and descent of 301 meters. This is another relaxing trail into the alpine nature with mixed forest of Swiss stone pines and larches. Your children can spot magnificent wildlife such as roe deers or playful squirrels. This trail is an excellent trail for families who love nature and love to breathe in the fresh alpine forest air.