At hotel, you should know that the room with view of the Matterhorn costs a little more than the one that is arranged to the south. It is equal as in an island where a room with ocean view costs more than the one with a view of the street. But paying a bit more to see the magnificent Matterhorn is definitely worth it. During winter, being close to the funicular or a mountain railway is really important in order not to have to use the ski bus additionally. But in the summer, that is less important since snows doesn't exist on the streets and it is easy to get around to the village.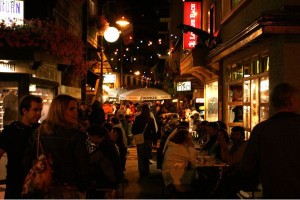 Once you have picked out a perfect hotel for you, you have to experience the night life in Zermatt during summer. Even just for a single night, it is worth it. It is evident that in such a significant tourist place like Zermatt, there is a lot of parties. Countless pubs, bars and discos attract the visitors to stay over night. During summer, live takes place on the streets which is a highlight, and is perfect to dine out in the open air. But one thing you should remember is that it is clear that on a highly located mountain village, there are not so many restaurants with outdoor terrace since winter is longer than spring and summer time. If you want to dine in the open air, it is best to reserve a seat before hand. Sitting in the open air is absolutely fantastic with a real Mediterranean atmosphere while practically sitting right on the street where few electric cars driving and people passing by. And at Zermatt, there are many kinds of people walking around from heavily equipped mountaineers planning to climb the Matterhorn to tourists  taking a photograph.
The best part of staying over night is of course the atmosphere and people but also food. There are so man restaurants along the main street with delicious and excellent accommodations. Not only on the main streets but the highly located mountain restaurants in the mountains of Zermatt not only offer a refreshment and snack for the hikers and climbers but also spoil their guests with tasty specialties. Mainly after a long hiking tour or several outdoor sports, a nice raclette, rosti of cheese fondue at the height of 2500 meters with dream views to the four thousand meter peaks tastes better than any best prepared dinner in the valley.