Zermatt is the single trail paradise at the foot of the Matterhorn. There are over 100 kilometers of trails available for all levels and 4 cross courses with a lot of flow. Mountain biking is the big flow experience between 1400 meters to 3000 meters in the mountains around Zermatt. Bikes are transported on three mountain lifts, Gornergrat, Rothorn and Trockener Steg. For professionals, recreational riders and families with children, biking is one of the best activities to do during summer with all in the pure mountain air of the Alps in car-free Zermatt.
Taking bikes from your home to Zermatt is a lot of work just to have some fun. For those who doesn't have bike in Zermatt but wants to enjoy the ride, you can rent bikes at many places at Zermatt. Many sports shops in the village has bikes for rentals and some gears such as helmets and gloves. Now that you have the gears to enjoy, you can ride in through the beautiful alpine trails with the magnificent views of the Matterhorn.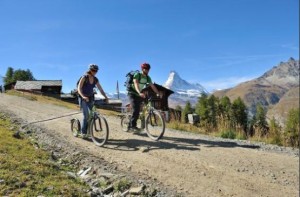 If you're planning to go biking for few days or planning to take the train with bike more than once, then you should purchase the bike pass. With a bike pass, free-riders and cross-country bikers can set off for new first-class shores in Zermatt. It is ideal for children for learning how to bike and perfect for experts to refine their techniques. There are also bike hotels in Zermatt where they offer locked store room for bikes, bike cleaning area with water hose, rental and repair services or can be arranged, information and advice about bike routes and tours in the surrounding area, and some special arrangements for bikers.
You can bike up from Gornergrat to Zermatt or through the beautiful alpine lakes around Zermatt where you can see the magnificent reflection of the Matterhorn, and many many more trails around Zermatt from simple easy trails for beginners and children to hard, challenging trails for pros and for those who love the challenge.
There are many trails leading to the mountain restaurants so you can stop by there to grab a delicious lunch while viewing the magnificent alpine peaks, or if you're looking for something a little more exciting, you can try kick-biking on Sunnegga or give the dirt-scooters a go on Schwarzsee. Either way, biking is one of the best activities in summer with the warm summer wind and the beautiful alpine floras blooming all with the magnificent views of the alpine mountains such as the Matterhorn.