Zermatt is a very beautiful place just to visit for a few hours or just a day. If you're planning to visit Zermatt for a short period of time, it is best to stay a night since it is too beautiful and too interesting for only a day excursion. It is best to stay over night in Zermatt or at least once or spend straight whole holiday there instead. Either way, you should at least once walk through the narrow alleyways in the evening, enjoy the impressive atmosphere and enjoy a local specialty for dinner. Also if you have time, it is worth enjoying the Matterhorn of the common blue, white and grey shades or the magnificent red sunrise.
Hotels and accommodations in Zermatt is magnificent. In Zermatt, there are accommodations from the most simple rooms for the functional overnight stay up to the luxury suite in a five stars hotel. There is an adequate accommodation for each taste. In the winter high season, Zermatt is sometimes fully booked and it is not possible to arrive there without a previous booking but in the summer time, it is usually not a problem to find an accommodation in Zermatt at short notice. But one has to be aware of an important fact such as compared to many other places in the Alps, Zermatt is very posh and luxurious. The prices are accordingly high, no matter if for accommodation or for dinner. Those who are used to spending their holidays in typical holiday regions as Spain, Italy, France or in islands as the Canary Islands or the Balearic Islands in four starts hotels will find that Zermatt has the same luxury and service already in a three star hotel.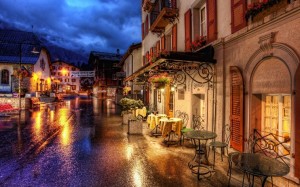 For people who arrive in Zermatt without any booking, there is right at the main station a big board with each of the hotels, nicely arranged according to the category. Telephones free of charge can be used in order to ask right at the hotels for a free room and for the prices. In the tourist information office which is located right at the main station, there is hotel overview available with the same free of charge telephone. This is absolutely a wonderful and helpful service for people who are just passing by for a short period of time or for those who haven't made a reservation.
From the main station, it is possible to get either by foot or by an electric taxi to the hotel that you have chosen. The luxurious hotels have transportation service where they will pick up their guests right from the main station. If the hotel you have chosen has that, you can use the service, but for those who doesn't or wants to experience Zermatt at full, you can pick up a taxi or a van from the parking place. Also if you want to see more of Zermatt, you can use the train to experience the gorgeous up hill. Just remember that most of the motorized taxi does not get you right up to the hotel but only to the parking place of Zermatt.