For those who are planning to climb the Matterhorn this summer or those who are wondering if you can climb up Matterhorn this summer due to the closing of Hornlihutte, don't worry. Zermatt is getting ready for the grand reopening of the Hornlihutte at the foot of the Matterhorn in 2015. Throughout 2014, it will remain closed due to renovation work. However, thanks to the Matterhorn Base Camp and its Alpine Shelters, mountaineers can still climb the Matterhorn via Hornligrat this summer. The Matterhorn Base Camp will be open between July 15th and September 15th 2014. Located on the Hirli at an altitude of 2880 meters, the Matterhorn Base Camp will offer accommodation for 50 mountaineers throughout the summer season of 2014. The Camp is established as a temporary replacement of the Hornli Hut which is currently closed to to renovation. On the occasion of the 150th anniversary of the first Matterhorn ascent, Zermatt is giving itself a great gift for the future. First a temporary alternative to the Hornlihutte in 2014 and then, in the anniversary year 2015, the newly refurbished Hornlihutte itself. 2015 will mark the 150th anniversary of the first successful Matterhorn ascent.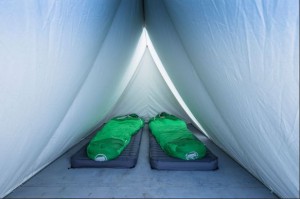 In summer 2014, the first Alpine pop-up hotel, the Matterhorn Base Camp, is set up on the Hirli at 2880 meters. A campus offering 50 sleeping places is built in the form of Temporary Alpine Shelters which is 400 meters below the Hornlihutte. The 25 prism shaped shelters are made in wood and aluminum. 3.38 meters long, 2.25 meters wide and 1.94 centimeters high, the rooms can house two Alpinists each. On top of this, there are larger logistics shelters, for instance a kitchen, warehouse and common room. The latter is 8.75 meters long, 5 meters wide and 2 meters high. The design of the shelters was inspired by the Matterhorn's pyramidal shape. Picking up on the pyramidal theme, the architect Selina Walder implemented it in the design of the Matterhorn Base Camp.
To ensure smooth operations in the special environment of the Hirli, the Matterhorn Base Camp will be managed by Kurl Lauber and his Hornlihutte team who will stay true to their tried and tested services and processes. After its complete dismantling in September 2014, the Matterhorn Base Camp will fulfill a sustainable second purpose. Set up in selected spots of the world, its distinctive architecture and recognizable design will act as ambassador of the Zermatt Matterhorn brand.