If you want to hike in a different style, snowshoeing is one of the exciting way of enjoying the fantastic trails around Zermatt. With beautiful glittering snow and the magnificent mountain surroundings, visitors can really enjoy their time walking in snowshoes on these trails.
Panorama Trail is a snowshoe trail that leads to some magically beautiful spots between Rotenboden and Riffelberg. Along the way it passes the frozen Riffelsee, hibernating under a thick blanket of snow. When the Riffelhorn casts its dark shadows across the Riffelsee, evening is still along way off. But this is a magical moment in winter, known as the blue hour. A calmness descends on the mountain, where the ski pistes are far off. Take a deep breath and continue walking. Soon the magnificent panorama reveals itself once again, with the Matterhorn, Obergabelhorn and Weisshorn in view. This trail is a winter's day of fairy-tale beauty, that sures to linger long in your memory. This beautiful trail starts at Rotenboden and ends at Riffelberg with total distance of 2.54 kilometers taking approximately an hour and 30 minutes. The highest point on this trail is at 2813 meters with an ascent of 26 meters and descent of 258 meters. There is a marked pink pole every 100 meters so hikers don't get lost.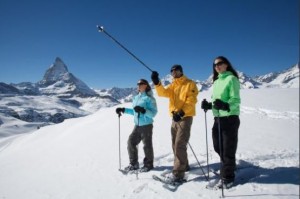 The Challenge Trail is the easy snowshoe trail that leads close to the Gornergrat Bahn railway line from Gornergrat down to Rotenboden. This trail offers sparkling snow, sunshine and a magnificent mountain panorama with the memorable hike of the Matterhorn in view. Especially after fresh snowfall, this walk promises pure pleasure. Hikers following the leisurely trail barely notices the descent of about 300 vertical meters. The views are absolutely beautiful with the mountain vistas such as the Matterhorn, Klein Matterhorn, Breithorn and many other peaks. Railway enthusiasts are also in for a treat, with fine views of the cog trains of the Gornergrat Bahn as they twist wonderfully and almost silently through the snow blanketed landscape. This trail starts at Gornergrat and ends at Rotenboden with total distance of 1.67 kilometers taking approximately an hour. The highest point on this trail is at 3079 meters with an ascent of 36 meters and descent of 302 meters. From Gornergrat you can set off left of the railway line and this is an unusual route away from the ski pistes. To enjoy the full trail just stay on the marked trail which has pink markers approximately every 100 meters along the route and please do not disturb the wildlife along the path.