Haute Route is not only for hikers but also for skiers. Just like hiking it takes you to a wonderful journey through the heart of the glaciers and high peaks of the West Alps!
The Haute Route is without a doubt the world's most famous ski tour and a classic great mountain journey. Connecting the 2 alpine centers of Chamonix and Zermatt, it offers everything you would expect on a high mountain ski tour! The scenery is amazing allowing you to pass through the very heart of the alps and constantly changing views of Mont Blanc, Matterhorn, Grand Combin and Monte Rosa.
The Haute Route or high level route is about 6 days traverse across the mountains and the glaciers between Chamonix and Zermatt. The best season to go on skiing is when the huts are open and staffed, which is around the 3rd week of March through mid May. If you want good snow, then it is wise to go around late March or early April and ski mid week to avoid the crowd during the trip. Trips taken from mid April to early May tend toward spring snow conditions and it is more likely that the huts are full. But you can still have an excellent time.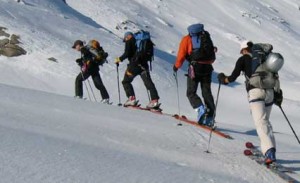 Just like hiking, the Haute Route has multiple routes. The basic route is the Classic Haute Route, or what skiers call the Classic version, requires more mountaineering objectives and less time actually skiing than the Verbier version. The route has more alpine feel and gets you closer to the magnificent Grand Combin.
The Verbier Haute Route or also called the skiers version is the route that most people take these days when skiing the Haute Route. The difference from the Classic Route is that it takes you to Les Chables and then taking a tram to Verbier.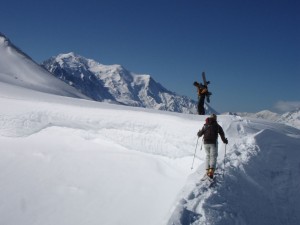 Like I said there are multiple routes. Just like the hiking, there are many packages that offer differnet routes, reservation at the hut or the hotel, and food to take you on the beautiful trip.
The Haute Route is a ski mountaineering tour of average difficulty, which should be easily managed by strong intermediate ski mountaineers.  You do have to be physically healthy and able to acclimatize to elevations. In order to get used to the altitude, it might be best to arrive couple of days earlier to acclimatise in advance.
Other than that, just have an excellent time gliding your way through the beautiful mountains of both Switzerland and France!