For Beginners skiers, there are several broad, safe and beautiful areas which are ideal for learning. There are rarely beginner trails that link to the huge mountain range. Zermatt may not be the ideal place for total beginners, but it is really challenging and will improve rapidly.
For Intermediate skiers, there are plenty of terrain that unfolds before you. The best part is, the runs are tremendously long and varied with worthwhile runs to the village. Snow conditions are good from December to April so you can enjoy skiing for long runs that link all Zermatt's area and you can even ski between countries!
Zermatt is famous for it's advanced skiing. You can warm your legs up with some speed skiing before diving into some of Europe's most famous mogul fields. You can try the bumps of National, Gant, Aroleid, and the famous Triftji and also the well known local event "the Bump Bash" in Easter. For better skiers and for those who love the challenge, there are large part of Zermatt's appeal that lies in large off piste areas.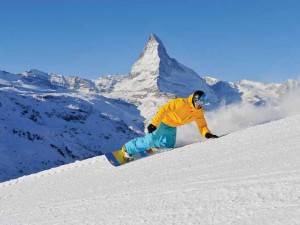 Zermatt has extensive off-piste areas with large and seldom skied fields of untouched snow. And thanks to Zermatt's extremely high altitudes and abundance of north facing slopes, powder snow can still be found many days after it falls. Huge areas of both powder and spring snow can be found off piste during Spring. Note that many of Zermatt's best and largest off piste areas are several kilometers away from marked runs, so they are not easily found and can be very dangerous to ski alone. It is best to take a local ski guide if you want to explore Zermatt's best off-piste areas.
For snowboarders, not to worry, Zermatt offers plenty of superb open terrain. There are also two snowboard parks and two man made half pipes, one at Blauherd, the other between Trockener Steg and Furgg. Snowboards are welcome on all lifts and 99% of the pistes.
For those who want to enjoy more skiing, you can try going to Cervinia which is very close to Zermatt. They offer quite different skiing to Zermatt with long and magnificent intermediate pistes.
Either place you choose, just pick up your boots or rent them at the many sport shops that Zermatt has. Just enjoy the longest runs with the absolutely gorgeous view of the Matterhorn and the alpine mountains with pure white snows.