Zermatt is without a doubt the best ski resort in the world. With the beautiful Matterhorn in sight, you can enjoy skiing all year long in Zermatt. Not only the magnificent Matterhorn but lack of cars and great sense of tradition makes Zermatt special alluring atmosphere which draws visitors back time and time again. Skiing in Zermatt is on a vast scale. Fabulous scenery captivates your attention during your ride up the mountains. It is easy to be dazzled by the mountain world around you, being surrounded by 29 peaks over 13,100 feet. Which are the highest mountains in Europe. Cable cars are common in Zermatt, and very necessary in the mountain environment. It is absolutely great when you get out of the cable car and snap on your skis for the real action. You will no longer be an observer of the majestic mountain but you will be skiing!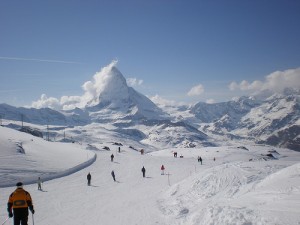 All three of Zermatt's ski areas soar to at least 10,200 feet. This translates into excellent snow conditions, and long runs to the village which is about 5 to 8 miles. Not only are the slopes long, but they are open for a long day! Lifts begin operating around 8am and won't close until 4:30pm in midwinter, and in April it is possible to still be skiing at 6pm! Speaking of long, Zermatt also has the longest winter season in the Alps. All three skiing areas are open from late November to the start of May and the huge glacier area offers good skiing all through summer too.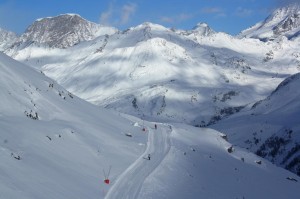 The longest run is from the Klein Matterhorn into town. At 12,500 feet the Klein Matterhorn lift is the highest cable car in the world. As a comparison, to stand at the top you are higher than all the highest mountains of Austria and New Zealand. From Klein Matterhorn to Zermatt is 8 miles and 7250 feet of varied terrain. It makes for one amazing run. This is one of the highest and longest runs which is consistently open in the world. Take this run and some of Zermatt's incredible diversity becomes rapidly apparent. Stepping out of a tunnel blasted through the rock, you will be into a vast white glacier world. The panoramic views over most of Switzerland, deep into Italy, even to distant France is absolutely astounding. All around you lies the eternal white wilderness of the high Alps. Pleasant in sunshine, but freezing in bad weather, the decent begins with coasting over enormous glacier fields, before dropping into steeper mogulled terrain.