Switzerland itself is a heavenly tourist destination. Zermatt is Switzerland's top travel destination. Zermatt is a lovely village at the Matterhorn mountain base and this mountain is an icing on cake forthe mountain lovers.
Zermatt village:-
This lively village is car free. But over 100 hotels, many shops and people can be seen around. Even this village has got its own underlying charm. Wooden chalets in the side streets, old country hamlets are naturally appealing. The village shops, restaurants and hotels are classy and are the best in Switzerland.
Tourists, who are only interested to hang around the village, can go for Matterhorn museum, Climber's cemetery and Village tour. Matterhorn museum is just awesome which shows intensely the life of this village in the mid 1800's. Tragic inscriptions on the climber's cemetery is also interesting. This short hang around of the on Zermatt village offers a different perspective and a look at the life in the old village.
In Zermatt, even simple fun walk along the river Gornerschlucht may seem extraordinary. Blatten and Zum See are two of very old-fashioned hamlets of Zermatt. Zum See has some outstanding restaurants to stop and enjoy some lip smacking cuisine.
Matterhorn mountain:-
Matterhorn mountain is in between Switzerland and Italy. It is really elegant, huge and wide with striking landscape and peaks. Its pyramidal shape and four facedpoints are eye-catching. These four distinct separations are the main climbing routes for the mountain climbers. In addition to steep mountain faces, the weather changes rapidly in this region. Other than mountain climbing the incredible natural beauty of Matterhorn mountain attracts tourists and photographers.
Cogwheel train to Gornergrat:-
The cogwheel train is one of the oldest attraction of Zermatt. The view of the huge Gorner glacier from Monte Rosa and its dazzling white peaks is awesome.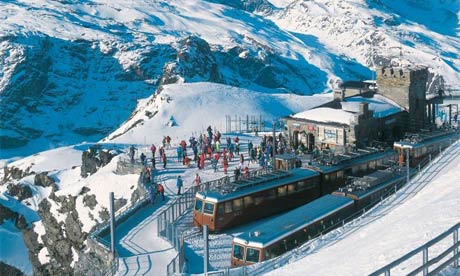 Zermatt's skispots:-
It may be winter or summer, Zermatt is always the best for skiing with plenty of lifts and numbers of backdrop. Glacier along the Italian boarder is one of the best place for skiing during summer. Zermatt is really amazing when to talk about its landscapes, length of slopes and number of ski lifts.
Forest Fun Park:-
The Forest Fun park of Zermatt has a fixed rope park featuring ropeways, rolling ropes and suspension bridges. This park has an impressive location at the foot of Matterhorn.
Golf club:-
This golf club is located between Täsch and Randa, just outside of the village Zarmatt. Golfers can enjoy playing golf in this 9–hole Golf course. There is another Scottish golf club at an altitude between 2,500 and 2,800 metres in the Gornergrat area.
These are few top destinations to see in Zermatt.