Ski Touring is very popular in Zermatt. If you an experienced ski tourist and have done many ski tours, this is something you don't want to miss. All of the ski tours are a demanding ski tour in the high mountains and incorporates glacier crossing therefore you will need to have previous experience of ski touring in alpine conditions.
Matterhorn Ultraks SkiAlp "1K" is a ski tour race that was launched in February 2013 and takes place in Zermatt every other year in odd-numbered years. The event alternates with the Patrouille des Glaciers which is a team race held in even years. The 1K course offers everyone who has dreamed of taking part in a ski touring contest the chance to compete in the most beautiful mountain setting in the Alps, at the foot of the Matterhorn. The course leads through the heart of the "white cirucs" of Zermatt and up the Furgghorn which requires competitors to carry their skis. For descent, it takes through Theodul Glacier to Zermatt. The difficulty for this tour is hard and the highest point is at 3394 meters with ascent of 1033 meters and descent of 1971 meters. The starting point for this race is at Schwarzsee ending at Zermatt. The distance of this race is 19.95 kilometers taking approximately 8 hours. For spectators, you will have an exciting section at Gandegg hut and there will be a lift pass package for friends of competitors. The route may change according to weather and snow conditions so either you're planning to enter the race or just to watch, you may want to check before hand which route it is.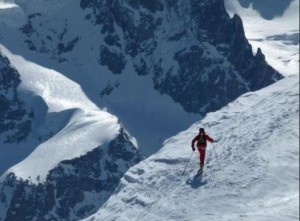 Matterhorn Ultraks SkiAlp "2K" contest is for experienced ski tourers. The course leads for 30 kilometers up to the Klein Matterhorn and around the Breithron. The 2K course places considerable demands on the athletes and the race requires extensive experience of ski touring as it leads through high altitude of alpine terrain. The race starts at Schwarzsee ending at Zermatt with the distance of 29.95 kilometers taking approximately 12 hours and 21 minutes. The highest point is at 3859 meters with an ascent of 1892 meters and descent of 2829 meters. As with 1K, this race takes place every other year in odd numbers and the route may change according to weather and snow conditions.  For spectators, the exciting section is by the Gandegg hut and on the Klein Matterhorn. For friends of competitors will receive lift pass package.